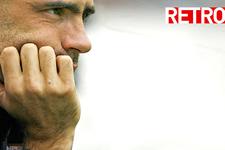 The League has not yet kicked off...the first big blow arrives with the injury to Grégory Coupet…joined a week later by Cris...OL beat Auxerre...then lose to Toulouse...The worries start...
The official photograph kicks off the month of August. Fred is there with his crutches. The smiles will soon have disappeared. The next day, during a training session under the rain with Joël Bats, « Greg » Coupet smashes his knee when he catches his leg in the net. The diagnosis is immediate: operation and out until the end of the year. Rémy Vercoutre will start the League campaign without really knowing if he is number one or if a potential number one will be brought in. The huge blow does not stop Lyon from beating 2 - 0, on the 5th, with a goal from Baros and a magnificent effort from Benzema.

On the 11th of August , OL are playing at the Stadium of Toulouse. The catastrophes just keep coming. Before the trip, Patrick Müller has to pull out through a knee problem. During the match, it's even worse! Govou has to leave his teammates in the 23rd minute (muscle problem) ; Källström is sent off in the 35th minute ; Cris breaks his right knee in the 63rd and Elmander shoots down the six times French champions in the 89th minute. A bad daya t the office !

Wiltord has left OL for Rennes. The club is looking for a goalkeeper and a central defender to replace Cris. Not an easy start to the season. And a trip to Lorient is on the horizon …

Thankfully Juninho has recovered. The Brazilian maestro will have to take things in hand. Belhadj has made his debut in the OL shirt when he replaced Govou. One question is asked about him ? Is he a defender or a winger...The debut of the World Champion Fabio Grosso are closely watched. The full back seems to be attracted by an offensive game. With the loss of the tandem Abidal/Malouda, OL's left hand side, one of their most feared weapons in the past, needs to be fully reconstructed.