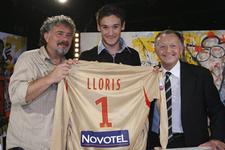 Hugo Lloris signed a 5 year contract with OL today. His transfer fee is 8.5M euros including some incentives.

Jean-Michel Aulas : The number 1 priority

Hugo is arriving in Lyon to replace a charismatic player : Grégory Coupet. When « Greg » told me that he wanted to move abroad, from the moment of our meeting, he promised that he would do all that he could to make sure things went well. For that we had to convince Hugo Lloris to come to Lyon. He even called him up…

That was the clubs number 1 priority. Rémy Vercoutre was informed straight away. Rémy has a lot of qualities and his presence is appreciated by everyone, while we or working or afterwards.
I'd like to thank everyone who was involved in the recruitment. We were in competition with other clubs. I told Hugo's father that they had good taste. As they were prestigious clubs, that must mean that OL has grown in organizational development and recruitment which now allows us : either to bring in talented and experienced players who have marked other clubs, or, as is the case with Hugo, promising young players with clear talent. That's what got us going with this arrival. This is a very important post in a club.
Grégory Coupet? We haven't received any offers for him. He has a number of choices and his priority is the USA. Miralem Pjanic ? Negociations are going well, he should be with us by the end of the week. Sidney Govou? We want to make him the symbol of the club. We'll be talking to him and will respect his decision. Loïc Rémy? He is in demand. I've promised Nice first option but nothibng has been negociated. We will need him if Sidney Govou leaves. Hatem Ben Arfa? His transfer fee will be between 15 & 20M euros. As I understand, through an agent, P.S.G appear to be interested in him. Fabio Santos? He is coming back. This is good news for our midfield.


[IMG43205#R] Hugo Lloris : I'm going to live out my dreams

I'm very proud to be joining the top French club, it's huge! Of course it's a little tough to leave a club where I've had so many good times. A page has been turned and now it's a fresh start. I'm here to progress and get to a higher level.
OL should their desire to recruit me, that's what made the difference. AC Milan are a huge club that I have a great amount of respect for but you have to know what you want and in which direction you want to go. In view of that I decided to join Olympique Lyonnais. Joël Bats was also important in my decision. And finally, playing in the Champions League is every players dream.
Following in the footsteps of Greg et Olmeta? They are monuments. It's a new story that is starting, with Lloris in goal. I have a lot of respect for Grégory Coupet, the player, the man, the monument. He brought a great deal to the club and certain things you just can't compare. I'm just the young Hugo who wants to keep climbing the ladder. With Olympique Lyonnais I hope I'm going to live out my dreams.

[IMG43206#L]Joël Bats : « Greg » is in my heart

In response to what Hugo said, the fact that he chose Olympique Lyonnais in order for his career to progress is an honour for us and something to be proud of. He has a lot of talent, now it's up to us to work well together as I have in the past with « Greg ». It's also a page that has turned for « Greg ». He will always be in my heart as we have shared some unforgettable moments. Hopefully I'll be able to relive those type of moments with Hugo and take him where he wants to go.