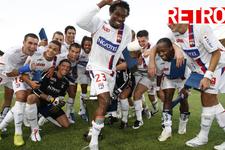 OL are still in Korea in the second half of July...playing in the Peace Cup that they will win...They will not be playing the Champions Trophy in China, as had been scheduled, but at Gerland on the 28th...winning it for a sixth time...
The English of Reading win 1-0 in the 2nd game. The match against River Plate will be decisive for a spot in the final. Benzema, Källström and Ben Arfa will make the difference. OL reach the final for the 3rd time in three attempts. Wiltord has finally arrived, but will not play in the final.On the 21st of July , in Seoul, OL, without an injured Cris, win the game 1-0 thanks to a gaol from Källström at the end of normal time after a breathtaking bit of play by Ben Arfa. The season starts in the best possible manner. Benzema was voted player of the competition ; he is also the top scorer.

Especially as on the 28th of July, Lyon lift their 6th Champions Trophy by beating Sochaux 2-1, with goals from Govou and Cris. Gerland discovers Bodmer, Grosso, Keita. Belhadj, had to declare forfeit due to a slight injury.

OL have one week left to fine tune the start of their season, which will kick-off at Gerland, something that had not happened to them since they have been French champions. The other novelty of this start of season ? OL will be playing as a 4-4-2, a formation that Alain Perrin prefers. A choice which was perhaps made easier by the absence of Juninho, who was only just coming back from a muscle problem. Another absentee and for a long time to come: the Brazilian Fred who broke a bone in his foot during a training camp with the Seleçao which needed. Something which managed to « annoy » OL.

The season is about to commence and OL are once again favourites for the title of French champions. Without forgetting the Champions League. One question? Won't the departures of Malouda, Abidal, Tiago, Cacapa… be too much to deal with? Knowing as well that Wiltord will be leaving soon… Interrogations which will swiftly be answered...