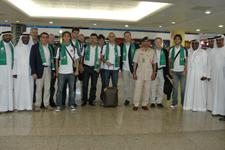 Difficult for the OL squad to get a good nights sleep at the end of this season! After the Coupe de France festivities, last week-end, the OL squad took off from the Lyon Saint-Exupéry airport last night, destination: Dubai.
A night time trip that in no way dampened the spirits of Aurélien Badin and Pierrick Valdivia, two of the four youngsters , along with Francesco Migliore and Michael Charvet, invited to join the « pro » squad in the United Arab Emirates. « A one week holiday with the pros, it's a bit of a dream », confides Badin. Valdivia agrees: « it's a great surprise for the end of the season ».

After a 6 hour flight, 6 drowsy hours broken up by games of Uno for the 4 Brazilians (Cris, Juni, Fred & Sonny Anderson), backgammon or Pong, OL's delegation was met at the Dubaï International airport by representatives of the Al Shabab club, who OL will play against at the end of the week. The occasion for all to receive, the very green, scarves in the colours of the champions of the United Arab Emirates and for Fred to see Cruzeiro beat Santos on the local TV channel.

An hour later, everyone had discovered, with no little surprise, the temperature of the country's economic capital: 31 degrees at … 7 o'clock in the morning : « it's even hotter than in Brazil » noted Fred while Cris could not take his eyes off the bus that will be carrying around the OL squad this week. « It's incredible, said a surprised Christophe Galtier. It's a photo of the game against Auxerre ; they've painted the bus in just one week! ». Surprise, is also the feeling that accompanies the trip between the airport and the hotel. Surprise at the number of towers that run alongside this 7 lane motorway, towers often still under construction. « 20% of the worlds cranes are here. It's an interesting city, with a culture that we need to know as this country will be very important in the not so distant future », declared Jean-Michel Aulas. OL's President will be meeting, this afternoon, M. Bouthi, the designer if the project Lyon-Dubaï City, a reproduction of the city of Lyon.

The players will be relaxing this afternoon. Tomorrow, they will be going to visit the desert.