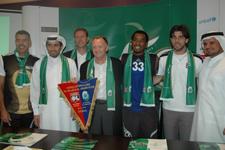 One thing is for sure : the game between OL and Al Shabab, on Friday evening in honour of the clubs fiftieth anniversary will not go unnoticed in the United Arab Emirates. As was proven by the fifty odd journalists who were crammed into the room at the Rashid Al Maktoum Stadium to question Dr Ahmad Saeed bin Hazeem (president of Al Shabab), Salim Saad Mubarak (Capitain), Toninho Cerezo (Coach), but especially, it would appear, as the majority of questions were asked of them, Alain Perrin, Juninho and Jean-Michel Aulas. There were a number of questions about European cups . And even Benzema, who is at the moment with the French national team …

« Football is very, very popular here, there is a lot of passion , explains Alain Perrin, who spent four months in the country coaching Al Ayn between July and October 2004. You can see French league games as well as English league and Champions League games on TV. » As far as the friendly game against Al Shabab is concerned, OL's coach, who cannot hide his « pleasure to be back », has taken a prudent position : « we wil suffer as their players are technically strong and quick, and, even if they are not as strong as their European counterparts, they are good footballers. My players are going to find this out. If you add to that the heat … Friday isn't going to be a walk in the park … » Juninho doesn't add much more when he confides that « whilst remaining concentrated and respectful for the opposition, the players want to enjoy the Double that they won ».

From his side, Salim Saad Mubarak, the captain of Al Shabab, has only one desire: swap shirts with his OL counterpart... if he is playing; which is far from certain. If Juninho is not certain to be on the field, Sonny Anderson should be pulling on the OL shirt once again. « We'll see how he is fitness wise , explains Alain Perrin. We'll see what role he could play in the team. He should play some part in the game; depending on the circumstances we'll see how long he can stay on. But we have also brought with us a bunch of young players from the academy and it would be good to see them play. In any case, we'lll be putting out the best team possible in honour of this game. » An « historical game between two champions *», underlines Jean-Michel Aulas, who admits that he came here a long time ago, « when both teams were still looking for titles. It's a fantastic tale! »

*Al Shabab have just been crowned champions, a title they have been chasing since 1995.

[IMG43163#C]"We are honoured to be celebrating our 7 titles in a row here, declared OL's President. Al Shabab are not only celebrating their title but also their 50th birthday. At 50, we have knowledge, experience but still the youth and dynamics to continue winning ".


[IMG43162#C]"I came here a long time ago,when both teams were still looking for titles. It's a fantastic tale confides the president Jean-Michel Aulas" Friday will see a game between the seven times French champions and the new champions of the United Arab Emirates.


[IMG43161#C]Alain Perrin does not hide his "pleasure" at being back in the United Arab Emirates, where he coached the club Al Ayan in 2004. If Juninho could miss out on the game, Sonny Anderson should be wearing the OL jersey once again during the match.


[IMG43160#C] Al Shabab have had to wait 13 years between titles. On Friday, they will be celebrating their triumph with their fans during a friendly game against Olympique Lyonnais, in the Rashid Al Maktoum stadium which can hold around 24 000 spectators.