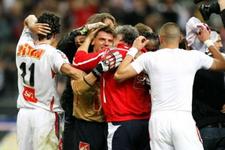 Reactions after OL's victory in the Coupe de France against PSG.
Alain Perrin : I'm really happy, the joy is proportional to the difficulty and the level of the performance. Doing the Double is something fantastic. Against a valiant Paris side, we had a lot of trouble getting into the game. Maybe we were still getting over the League title. It's the story of a game : both teams had positive periods. As is often the case, the first team to score has a good chance of winning. Sidney's (Govou) goal is a great symbol. The way that Juninho got him and Coupet together for the trophy ceremony is a great hommage. My record? I'm happy. I achieved my objectives. What happens next is not up to me.

Jean-Michel Aulas : When you look at how the season went, you can see that even when we are in difficulty, we win trophies. We've finished of our best sporting season ever. We didn't do a double this season but a quintuple. We won the Peace Tournament at the start of the season, the Champions Trophy, the League and now the Coupe de France. To all that you can also add the title of French champions for our female team. We know that the Coupe de France is a difficult competition to win. PSG were remarkable. I had a little thought for Alain Cayzac. He sacrificed himself so that PSG could stay in L1. That's the reason why, tonight, PSG could have possibly deserved to win this cup. As far as Alain's (Perrin) future is concerned, for the moment, he has a contract; so there can be no question. Especially after a win like tonights. We'll be going away with him, with Christophe Galtier and the remaining players to the United Arab Emirates. We have all week to think about things. We have a little idea about what is needed to grow. We stated our intent with the signings we made : Delgado who hasn't played too much yet, Ederson, another young and greatly talented player who will be joining us, maybe another with Grégory Coupet's replacment. I dedicate this match to him. He made one very important save tonight, as he did against Auxerre, Nancy and Sedan. He really is an immense goalkeeper who will be very difficult to replace. I would have liked to have kept him at the club a little while longer.

Jérôme Rothen : We deserved to win the cup but didn't manage it. A final is only great if you win it. We're upset as we put in the performance that was necessary. But, when you don't score you're never far away from conceding, especially againsst a team like Lyon. They scored what was pretty much their first chance of the game. It's terrible for us but you just have to accept it.

François Clerc : Winning the Coupe de France, it's a childhood dream. It's extraordinary. We're really pleased. We know that Doubles do not happen very often, so we're very proud. It was very difficult, on points Paris would have won. The definitely played better than we did, but what counts is if you win; last year, we played better than Bordeaux but lost the game. This year it's the other way around and we're not complaining. In a couple of years time nobody will remember the style of the game, just who won it. There was a lot of emotion in the dressing room. Greg (Coupet) announced his departure from the club. For him to finish with a Double is incredible. He's a monument! He's the soul of the team. We owe him a lot. Juninho, Govou and Coupet have won everything there is to be won in France. They are very important players.

Mathieu Bodmer : The club has been waiting 35 years to win the Coupe de France. It's historical. It's a great moment for the players, the directors for everyone from Lyon. Tonight was not our best match of the season. At half time we could have been 2 or 3 goals down, but Greg (Coupet) pulled off some great saves and there were goal line clearances. At the start of extra time, we told ourselves there was nothing to lose. Sidney's (Govou) goal, well it symbolizes everything. As far as I'm concerned the season was perfect: the League, the Coupe de France, I've played in all the games, I've been called up to the French squad. So yes, for me the season has been perfect.