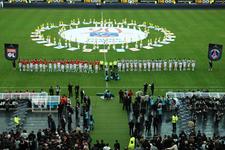 Certain people will no doubt see the symbolism : OL's success over PSG (1 – 0), is of course down to the group and even the entire club, but also was found in the individuall performances of two of the emblems of the club : Sidney Govou of course, scoring the winning goal (102nd), and Grégory Coupet who kept his side in the game with a multiplication of decisive saves.
Coupet and Govou have now won everything available in France. Juninho is still missing the Coupe de la Ligue. Coupet, Govou and Juninho : or how do you mark the history forever the history of a club? OL are writing their own history! OL have become the 11th French club to do the League – Coupe de France double, the first since Auxerre in 1996. By beating PSG, OL have sorted out a family affair : Juninho et al have joined the generation of the 70's who were very strong in the cup, winning 3 trophies (1964, 1967 & 1973), but were incapable of giving the club their first title of French champions. Closer to us, Coupet and his teammates have managed to achieve what had become an obsessive dream: turn their League domination into something concrete in the cup competitions as well. They have managed to wipe out the idea that French football had, that they would inevitably fail in this competition against opponents that they dominate in the League.

But, right up to the 102nd minute of the game, we thought history was once again going to repeat itself. That PSG, beaten twice in the League (2 – 3 & 2 – 4) would once again destroy the 7 times French champions dreams. As Paul Le Guen's players came very close to opening the scoring. Firstly from a Camara header which smashed into the crossbar (10th) ; Pauleta then coming close to connecting with a cross from Rothen (26th) ; Anthony Réveillère cleared a shot from Pauleta off the line (32nd) who then forced Grégory Coupet into more action (41st). OL could quite easily have gone in at hal time one down, if Mr Kalt had not disallowed an Armand goal for an offside bye Pauleta (45+1).

At half time, Paris had the legitimate ambition of adding an 8th Coupe de Frnce to their honours list, so much had they dominated OL. Unable to control the midfield, OL had only looked dangerous on rare occasions. A long range effort from Benzema going just wide (13th), a free kick from Juninho grazing the post of Alonzo (25th). Against constant pressure from Pauleta and co, OL were in trouble in the middle of the park and were in danger from PSG's set pieces, a PSG side that were obviously feeling much better after avoiding relegation last week. From one of the set pieces Camara hit the crossbar and Coupet had to react quickly to pull off another miraculous save in the aftermath (64th).

Bodmer and Keita coming on, allowed Alain Perrin's team to get ahold of the ball and Karim Benzema was able to play as an out and out centre forward, a position he prefers. Mathieu Bodmer was unable to hit the target (68th). Neither he nor Sébastien Squillaci could get headers on target either (86th & 82nd). If there was a turning point in the game, it was surely after a Paris counter attack in second half stoppage time. The players from the capital will be regretting Mendy's opportunity for a long time, profiting from an error by Grosso, he forced Coupet into yet another exploit (90+2). The chance had gone – even though it seemed that chance had chosen its camp. The game turned just 3 minutes from the end of the first half of extra time when Sidney Govou fired home a cross from Benzema which had been deviated by Kader Keita (102nd). Right at the end of the game, Kader Keita was unable to beat Alonso (118th). Another goal would not have been fair on a PSG side that has never looked as good all season.

In a week where OL could have lost everything, they won the lot, getting through the suspense in the League and the Coupe de France. How will historians judge the 2007/2008 OL side? Quite frankly, we don't care! This season will go down in history. Fantastic!