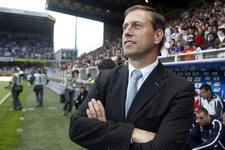 Last pre-match press conference of the season for Alain Perrin. A very relaxed press conference...
The players have emptied their lockers. It's tradition. Some gave things away to the supporters straight away; others filled their cars with the intention of handing things out later. The usual images before the last game of the season. Just like practicing penalties before a cup final. At around 12h 45, Alain Perrin presented himself in front of the gathered media.

Is it something special, playing in the final of the Coupe de France?
« It's always great to play in a final. We want to be ready at the kick-off. We'll have to deal with event. We have to win this final, not just play in it. I've already spoken to the group about the joy of winning such a competition. It's magical. We have to go into this match with conviction and commitment, just like we did against Sedan, Nancy and Auxerre. PSG have their chance and quality players; PSG will be playing with a bit more freedom now their status in the L1 is maintained. It's going to be a great final ».

Have the group gotten back to work ?
« Yes. They celebrated the title win. They deserved to and it's good to kick back a little. A weight off their shoulders now the title has been won ? It wasn't the same weight that PSG had ».

What do you think of the PSG side?
« I've already said it. This team is more than capable and has some quality players. PSG are playing at home as well as being a specialist cup team. We'll be looking to upset Paris by beating them at home so that we can take the Double. Let's not forget the context of our victories over PSG in the League this season. And this team has lacked a little success this season. PSG will have their best team out and have only changed their goalkeeper. Paul Le Guen has 2 or 3 options. They have a very good midfield, aggressive and they could overrun us. The midfield battle will be very important, as will the ability to negociate our counter attacks ».

[IMG43118#R]Are you confident that Jean-Alain Boumsong will play ?
« There is still some doubt about that . We'll wait until the last training session. Pat Müller will be going to Paris with the team because of this. It's something we've had to think about; we thought about Pat's personal situation as well. What did I propose to the Swiss national team coach? If Jean-Alain is fit, then he can go back to the squad at the end of the training session. I know there is a risk concerning Jean-Alain. He is healing. If he is declared apt by the doctors, we'll then have to see if he starts the game or not. I don't want to make things worse for him. His season is not over yet and certain changes have to be dealt with. We're not going to make our own task more difficult. Bodmer looks favourite to start in the middle at the moment ».

Will you be playing with the same configuration up front as you did against Auxerre?
« I'm not going to let Paul Le Guen know everything. You know all about the quality of our forwards. Having them play together is interesting. Against Auxerre, they also had to adapt to the opponents system. For the moment, we're not fixed. There is a logic behind dealing with the game from the start and into an eventual extra time, without forgetting penalties ».

Will you be doing the same things this time round that you did with Sochaux last year ?
« I'm not superstitious . We're preparing as we always do. There is no extra pressure either. The Cup, is just a bonus, even if I'd love to win it. I'm still frustrated by our elimination from the Coupe de la Ligue. At OL you can feel, however, the weight of the past in the Coupe de France with the presence of Bernard Lacombe, Georges Prost. We have a duty to do our maximum for everyone ».

Could the rumours of possible departures affect the preparation ?
« It's not a problem. We're in the continuity of the season, of a career. It can only be a bonus for the players if they manage to do the Double ».

[IMG43119#L]Do you feel as if you're defending your title ?
« A little. I think there was more a feeling of defending our title of Champions. This isn't a personal matter. It's the team, the club that wins. I want to win it with OL. Last season, Sochaux were far from favourites against OM. It's always a special game; we have to be capable of dealing with our emotions. The dream can only come true through hard work on the field. The Double ? You work to try and succeed. You play to win. So if we win on Saturday night then, yes, we will be very proud ».