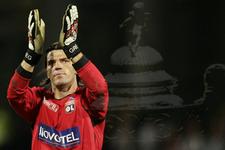 The stats… and other information surrounding the Final of the Coupe de France which will be played on Saturday between OL and PSG…
The 2 teams have played against each other once in this competition: in the ¼ final of 1976, PSG 1 OL 1 (Lacombe) and OL 2 PSG 0 (Chiesa, Lacombe).

22 have been used by Alain Perrin. Coupet is the only one to have played all 450 minutes.

3 goalscorers only : Benzema 6, Juninho 2, Fred 1. 2 free kicks (Juninho & Fred). 1 penalty (Benzema). 1 hattrick (Benzema against Créteil). 1 double (Benzema against Sochaux). 9 goals from 77 shots.

Benzema has scored 8 goals for Lyon, Govou 7, Juninho 6, Fred 3, Cris 2, Ben Arfa 1, Müller 1, Clerc 1.

1 goal conceded : Traoré for Sochaux.

211th match on Saturday in the Coupe de France for the seven times French champions.

96 different opponents in 211 matches for OL.

1 player in the groups has already lifted the Coupe de France : Jean-Alain Boumsong in 2003 against PSG 2 - 1 scoring the winning goal in the 89th minute.

Alain Perrin won the Coupe de France in 2007 with Sochaux. He can join Pouliquen who has won it twice in a row with two different teams : Strasbourg in 2001 & Lorient in 2002.