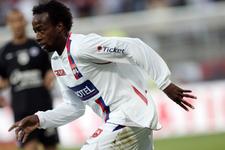 OL are back in training at Tola Vologe.40 minutes based on sprints and exercises...Sidney Govou then spoke to the assembled media...
Training started with a talk from Alain Perrin about the much awaited final of the Coupe de France, after winning their 7th title. « I wanted to remind them of the joy of winning this competition. Remind them as well of the success that Paris have in the different cup competitions … we can't go into the game with a superiority complex ».

Jean-Alain Boumsong stayed with the physio's. The other members of the squad went into quite a short but intensive session. The goalkeepers finished with a foot-tennis. Just after his shower, Karim Benzema received his Etoile d'Or a trophy given out by the magazine France Football to their Player of the Season. The players trophy cabinet has filled up in a short space of time.

Sidney Govou was expected by the assembled media. Press conferences with « Sid » are always interesting. His answers are always precise and come quickly with a touch of humour. How was it, getting back into training Sidney? « We got back into it gently after our two days off to celebrate the title. It's still fantastic to win the title and this year we can make it a Double ».

The Coupe de France? « It's the greatest of the French cup competitions. We haven't had a chance of winning it up until now. Today, it's something we really want to win. We're playing away from home and if you look at PSG's record in cup competitions, we are not favourites. We cannot go into the game thinking we are superior to the Parisian's in this competition. Even if we have beaten them twice this season in the League. By keeping their place in L1 they will be playing with less pressure. We have no reason to get stressed out for the game. It's 50/50. ». What do you need to win on Saturday? « It starts in the head; it's all about desire and team spirit. I really think that PSG will be putting out their strongest side for the last game of the season ».

[IMG42922#R]The player, who often says that he doesn't know a great deal about football, remembers, however, a final of the Coupe de France. « I must have been 7 or 8 years old. It was a final between OM and Monaco (OM 4 Monaco 3). It was the first time I saw a game in Paris. » The questions then turned to the possibility of the Double. « It was difficult to do in previous years , as we were playing the cup games after the matches in the Champions League. We had difficulty concentrating. This season, maybe we have a team better suited to cup games, without forgetting that the draws have been good to us with 3 games at home ».

If he wins the Coupe de France, after a Coupe de la Ligue, 7 titles of Champions, 4 Champions Trophies, Sidney will have won everything possible in France. « I talk a lot about this Coupe de France to the squad; I want to show that I desperately want to lift it . Alain Perrin speaks about it as well. As for Bernard Lacombe… well , not today (laughs). Doing the Double this season would be aparadox. It makes me smile. Football is like that … ». A last title before leaving? « We'll see. I'm focused on this game, then I'll be thinking about the Euro. It would be good to leave on that note. But, then again, it would be just as good to win an 8th title in a row ».