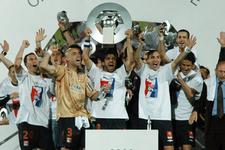 Lyon only needed a draw to be crowned French champions. They went one better by beating Auxerre (3-1). OL have now taken their seventh consecutive title. Benzema, Fred and Källström scored Lyon's goals.
In a stressful season run in, Bordeaux have pushed Lyon all the way, forcing them to wait until the last game for the title. Making them use all 38 matches in order to add another title of French Champions to their honours, the seventh for Grégory Coupet, Juninho and Govou who now join Jean-Michel Larqué and Hervé Revelli for the number of titles won. The fifth for Réveillère and Vercoutre, the fourth for Cris, Ben Arfa and Benzema. For the last two, this title is a little different from the others. "This one is special , agrees Ben Arfa, as I've played a lot more than in precedent seasons."

Not since their first title in 2002, have OL been as menaced; the joy is all the more intense. « Bordeaux played like a champion, recognizes Juninho, but we've proven that the champions are still OL. This seventh title is just like the first ». Despite everything, despite the injuries, despite the criticism that has followed them throughout the second half of the season, despite the motivation that sublimed their opponents in each of their games, Lyon have managed to do that which is most difficult : confirm their performances and stay at the top . OL have kept their throne, sporting history has proven: this is not the easiest of exploits.

Against Auxerre, the scenario was more like a gentle stroll to seventh heaven rather than the trip into anguish that had been feared. To the questions asked before the game about how to deal with a 0 – 0 scoreline, Lyon came up with an answer very quickly. The suspense lasted all of a minute ! … 24 seconds to be precise!following a one-two with Fred, Karim Benzema showed their intentions, putting his side on the road to success (1st). And if certain people still thought that Auxerre, who didn't manage a chance on goal until Thomas reduced the scoreline(78th), were capable of turning the game around, Fred, preferred to Hatem Ben Arfa, took the opportunity to convince them otherwise . After a cross from Kader Keita, the Brazilian fired past the former OL player Rémy Riou (9th).

The rest of the game was a long wait for delivrance, punctuated by some efforts from OL. Kader Keita saw his shot graze the side of Riou's goal (27th). Fred's shot that was as powerful as it was far out whistled just wide (42nd), Juninho hit the crossbar (45th+1).

Their total of 79 points is the third highest points total of their history (just like in 2003/2004 and 2004/2005). It's less than the the last two seasons but OL can be proud that they have beaten one of their records: that of the most goals scored in a season (74) thanks to a headed goa l from Kim Källström (53rd). Thanks as well to the formidable season from Karim Benzema who finished up as the League's top scorer … at only 20 years of age. « I couldn't have done it without my teammates , he declared. I've played a big part in this title win. We're going to savour our win and try and go on and win the Coupe de France ».

In contrast to other seasons, the work is not over yet for Lyon. Traditionally, OL were always on holiday before everyone else. This time though, they will have to wait until the 24th of May and the game against PSG. Season after season, OL push back the limits of the French League's history; they could go down in that history on Saturday in becoming the first club, since… Auxerre in 1996 to achieve the League and Coupe de France double.