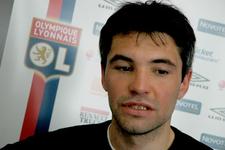 Only two days to go. On Saturday night, at around 23h00, OL will know if they have won their seventh title in a row. "We can't wait, admits Jérémy Toulalan. A big match is waiting for us. Everyone is concentrated, relaxed but in determined mood. We're used to these big matches."
Unless they lose to Auxerre, Lyon won't even have to keep an eye on the result of the game between Lens and Bordeaux. A win would assure that Grégory Coupet and his teammates stretch their record run of six consecutive titles of French Champions to seven ; a draw would force Bordeaux to win their game by a clear nine goals if they wanted to overtake OL, a premeditated draw that Toulalan is not even considering – « if we played for a draw, it would put us in danger as we don't know how to play like that », he analyses ; a defeat would not be crippling if Laurent Blanc's players do not manage to beat Lens. « The guys on the bench will be keeping abreast of things but us, on the pitch, we won't be wanting to know the result. We won't be playing the percentages in this match. We have all the cards in our hand, it will be up to us to be good » assures OL's midfielder.

Despite Bordeaux finishing the season strongly, they have pulled back 7 points on OL in 6 games, the French international is « sure that [OL] will be champions ». « We playing our season in this one game, he says. If we do not end up as Champions, it would be a terrible season, even if we managed to win the Coupe de France the following week. The next two weeks are going to be very important, we have to be ready on all fronts. We have to be careful as we can also lose everything ». Lose but also win everything : « If we win the League, we'll be much more liberated for the Cup ».