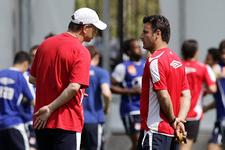 Last pre-League match press conference of the season for Alain Perrin...OL play away to Auxerre for the title, keeping an eye on proceedings in Lens...
« We're in the final straight. We can see the finishing line . One last effort to go out and win this title. The players are ready. But football is a sport and we are up against an opponent who is motivated and who is free from any sort of pressure. An opponent motivated for a game against OL. I don't expect them to lie down for us. Honour is something that is very important ». Alain Perrin didn't have to think a long time before replying to the gathered media. What has to be done to reach this title that everyone has been waiting so long for ? « Play to win, don't let them get on top, play as if it were a cup game and avoid an upset. We cannot let up at any moment. Obviously we'll be keeping an eye on the result in Lens especially in the second half. Don't forget, at the kick-off we have a point in our hand …Afterwards, who cares how we win the title .We'll take what we get. Our season won't be judged on the style ».

A 38th and final match of in the League, which will decide the destination of the title, can we assume that the preparation for this game is different ? « No. We have to go into it as per usual. It's comforting that way . We have our marks, and they are important. We've worked as we would normally, by watching footage of our opponents and concentrating on our basics. Obviously there is a certain amount of excitement to be in this type of situation. The players are used to these types of games. They are focused.»

Alain Perrin also talks about the collective and individual quality of the Auxerre side. « No question of throwing ourselves at them, as they could hit us on the break. Defensively, the team has been well organised over the last few games. We can make the difference from set pieces? It's often the case in these high level games, as it is difficult to make the difference otherwise ».

[IMG43069#R] OL are focused on Auxerre. They will start thinking about the Stade de France afterwards. Saturdays result could have an incidence on the cup game. « Most certainly. The way the League finishes up will have an impact on the final of the Coupe de France ». Lyon will be without Sidney Govou, suspended, for the match against Auxerre. And the others? « Everything is fine .As always there will be two or three choices to be made. I keep an eye on how things are going in training. The leaders? They have taken their responsabilities on and off the pitch. Just look at the recent performances of Cris, « Juni », and «Greg »… A group of about 13 or 14 players have shown themselves to be head and shoulders above the rest. They will be present for the last two games. » A question pops up about the importance of the training camp in Evian. « The camp was all about recuperation and bringing us all closer together. It was not about physical or tactical preparation».

An OL champion on the last day of the season, how should that be taken ? « It makes for a more interesting competition. As far as I'm concerned, it's normal that there is more competition. It would be even better if there were three or four clubs fighting it out. Just look at some of the other Leagues, Manchester had to fight for their title, Inter Milan still have to … ». He has no qualms about his non-nomination for the title of Manager of the Year. « I thought Laurent Blanc very kind in what he had to say about me. Personally, I had put Laurent Blanc at the top of the list of L1 managers. He has a lot of natural charisma and on top of that he is well surrounded at Bordeaux with Gasset and Bedouet ».