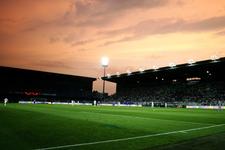 OL have always been quite successful at Abbé-Deschamps Stadium...
Since the 2000-2001 season, OL have always brought back a positive result from Auxerre: 6 wins & 1 draw. The draw (0-0) was from last season's game. To this record can be added the victory in the Champions Trophy game (4 - 1) in 2005. Govou x 3 & Juninho x 2 have both scored at Abbé-Deschamps.

Jean-Alain Boumsong has scored 4 goals in the L1 including one against OL during the 2003-2004 season; his last goal in the French league. Lyon won that game 2 - 1.

Having scored 71 goals, Lyon are only 2 goals behind their record haul for a season. Will they be able to better it?

With 30 goals, in all competitions, Karim Benzema can he add to his goals tally and match, even go past, Bernard Lacombe & Sonny Anderson (31 goals)?

Lyon have currently not conceded a goal for 315 minutes. The last one was scored by Compan for Caen in the 45th minute of that game. Since then, Nice, Sedan & Nancy have not managed to get past Grégory Coupet.