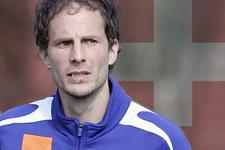 Patrick Müller has been pre-selected for the Swiss national team, he gices us his views on the European Championships, his return to competitive action, his form, his objectives...
How do you feel after returning to competitive action with the CFA side last Saturday?
I'm very happy to have been able to get an hour under my belt. My knee felt fine but it was just my first game back, you could see that in my performance. I'm still happy to have gotten back onto the pitch.
Physically, it was difficult but my knee held up well for a first game back. I was apprehensive at the start, during the first few minutes, as in a competitive game you can't pace yourself as you would in training. But, after a few minutes everyting was fine … you forget quickly…

So, are you ready for the European Championships ?
I don't think I'm ready just yet. I'm looking forward to playing withthe reserve team this weekend hoping to play the full 90 minutes. There is one more game after that. Hopefully I'll put in a full game next weekend to get up to match fitness. Then there'll just be a few days wait before the squad list for the Euro is announced. I'm looking to play in the Swiss teams friendly on the 24th of May, just before the final list is decided on.

Are you on schedule?
I don't really know, there is still time and matches left, we'll see what happens. If I feel like I'm not ready, I'll let the coach know so that I don't take the place of a player who is at 100%. I'll be honest with the coach and correct with the other players in the squad. It's been a while since I played for Switzerland, there have been some friendly games and other players merit maybe more to be in the definitive list of 23. Obviously I want to play in the Euro, but not at the expense of another player, unless I'm at 100%.

[IMG43066#R]To be in the group of 26, it's a strong sign from the Coach …
That he came to see my game with the reserve side is a strong sign from the Coach. I'd like to thank him but the objective is not to be in the group of 26 but the group of 23.
There are still tests for the team as we did not go through qualification for the tournament. Once the tournament starts I won't be worrying about the Swiss side as we have a quality squad. I'm still confident and I'm sure that come the start of the competition we'll give everything so that we can be proud of our tournament, as the fact that we are playing it in our country is unique.
We're outsiders for the competition and we want to pull of an exploit.

The League will end and be decided on Sunday, how do you think it will go?
I only played in the first game of the season, I'll not be feeling much like a champion compared to the rest of the team that has worked hard over the year. I'm coming to the end of my contract and I'd like to get my future sorted out as soon as possible. I saw some banners at Gerland that went straight to my heart, I can only say thank you.