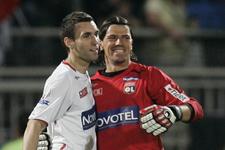 Lyon only need one point to take their seventh French title, a point that they will have to go and win next week away to Auxerre. At Gerland and Chaban-Delmas the hierarchy was respected : Lyon beating Nancy (1-0) and Bordeaux beating Sochaux (2 – 0).
With a better goal difference than Bordeaux (+35 against +27), Alain Perrin's men will be crowned champions in Auxerre for the second year in a row if they manage a draw against their opponents on Saturday the 17th of May – unless Bordeaux manage to beat Lens by 9 clear goals. The draw looks to be one well within OL's capabilities, especially if they continue with the defensive solidity they have shown over the last 3 games (0 – 0 against Nice, 1 – 0 against Sedan and Nancy). A precious quality which owes a lot to Grégory Coupet, who once again pulled off an exceptional save, this time from a header by Fortuné (64th). Since he came back from injury, we've stopped counting his « title winnning saves », or the points OL have taken thanks to his invincibilty. At the moment he is the one that is "winning" games for the club. Like against Nice and then Sedan in the semi-final of the Coupe de France, the National team keeper is in top form, against Sedan, it was Juninho who capitalised on the fact his keeper was saving everything, the keeper who, like the Brazilian and Sidney Govou, could go down in the history books of French football joining Jean-Michel Larqué and Hervé Reveilli, who hold the record number of French title wins (7).
Great players are often decisive at important moments. Two free kicks from "Juni" have turned a week with a lot at stake into a week of great delight. Against Sedan, he fired one home. Against Nancy his shot bamboozled Bracigliano whose clearance hit André Luiz before finishing up in the net (1 – 0, 62nd).

A lucky opening goal rewarded OL for an hour of attacking play, but which was on occasions imprecise. In a Gerland decked out with red and blue flags, they started the game in lively fashion and looked inspired. Despite their domination of the midfield, it was from a defensive error by Nancy that they fashioned out their first chance. Kader Keita intercepted a back pass by Gerriero, dribbled past Bracigliano bedfore hitting the ball towards the open net... Having gotten back onto his line, Brison saved his team (8th). Bodmer (11th) and Benzema (16th) all hit directly at Bracigliano ; Juninho from distance (19th) and Squillaci with a header (23rd) missed the target.

Was it the fatigue of the Coupe de France semi-final played three days earlier or the inherent tension at the end of the season that but the brakes on OL. Whatever it was they let up. A sign of their difficulties : Coupet was the most solicited player for OL diving in at the feet of his opponents (37th & 39th). The main part of the first half was made up of technical errors and rough tackling. OL could have gone in at half time with a one goal lead. Govou fired past Bracigliano but the referee signalled him offside (?) (45th).

Juninho and Coupet took it on themselves to put the balance of the game in the reining champions favour and, during a quite stressful second half, OL contained their visitors without ever really being put onto the back foot , Grégory Coupet making his second save of the night from a Macaluso header (93rd) in stoppage time. But, without having been able to build on their lead Govou (65th), Fred (71th), Ben Arfa (84th) and Bodmer (85th & 90th) all failing, they were uneasy right up to the final whistle.

The title of French Champions will be decided on the last day of the season. A situation that Lyon have avoided since their first title win in 2002. At that time a victory was needed. One point is all that OL need this time round in order to take their 7th title in a row.