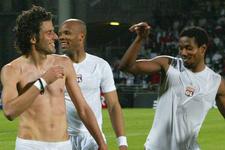 It's done, OL are into the final of the Coupe de France. Despite playing two big games in 72 hours – a place in the final at the expense of Sedan and a decisive game against Nancy for the title on Saturday - OL have given up on neither.

OL were in with a good chance of reaching the Stade de France which they left with their tails between their legs last year after a defeat at the hands of Bordeaux. Unlucky in the Coupe de France for a while now, OL gave themselves the arms, during a difficult night, to make up for 35 years of hurt. PSG were already qualified, Gerland gave them a choice opponent for the important rendez-vous capital on the 24th of May. And looking at the reactions between the fans and the players after the game, the supporters will be there in force to get behind their team in two weeks time in Paris.

This cup that is so important to Lyon say a game that took a long time to be decided. All this because of the well organized Sedan side and a poor performance from Lyon. And as everyone was gearing up for extra time, Juninho hit a free kick to which only he has the secret, scoring the only goal of the game.

The first alert, from Jean Tibéri, was well saved by Coupet (13th). Bodmer, from a header, missed the target (14th) ; A brilliant control and shot from Kader Keita ended up in the arms of Regnault (16th). Shots from Källström, Allart and Bodmer were harmless (18th ; 26th ; 29th).
After half an hour during which they had been more than a match for the local side, Sedan started t pull back. OL were unable to break through despite the number of chances they had. Patrick Regnault kept them out with a number of saves from OL's attacks. When they did manage to get through the Sedan defence, OL were unable to finish of the movement: a free kick from Fabio Grosso flying just over the bar, Kader Keita miscontroling on the edge of the box and Hatem Ben Arfa pulling his shot wide after a backheeled pass from Bodmer (37th).
Sedan had gotten through the storm. After a great collective passing movement, a header from Allart forced Coupet into a full length dive to save and allow OL to go back into the dressing room on level terms. The only low point of the first half was the yellow card received by Cris which will force him to miss the final after picking up cards against Paris and Valenciennes beforehand.

Bodmer got things going again in the second half after a pass from Fabio Grosso. Hitting the ball with the inside of his foot, low near to the post, his clever shot was however unable to beat the experienced Regnault (51st). Jean-Alain Boumsong got his head to a Keita corner, but his effort was cleared by the Sedan defence (61st). Keita, played in by Hatem Ben Arfa, hit his shot at Regnault's legs, only managing to win a corner. A corner from which, Fred came up just too short to head home (62nd). OL were piling on the pressure, but no one was able to make the difference. The minutes were ticking down, proving once again that Ol were going to suffer in this competition … Croix de Savoie (1-0), Sochaux (2-1) & Metz (1-0) had already made life difficult for Alain Perrin and his men.
OL's coach, in order to keep them fresh had left Juninho, Benzema and Govou on the bench. The first two were to come on when Perrin made his changes. Hatem Ben Arfa signed off with a rocket shot punched away by Regnault (76th). Benzema tried his luck with a powerful left foot shot, Kader, missed the target… A floating shot from « Juni » came close to beatings Regnault. His free kick from 35 metres however, ended up beating the Sedan goalkeeper. Finally !