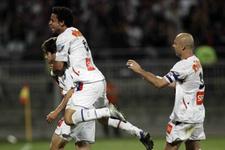 All the reactions after OL's victory in the Coupe de France over Sedan.
Christophe Galtier : There are moments in a career and in a season that are important, on the 24th of May we will be at the Stade de France for a great game. We do this job for moments like this. The players did what they had to do in a very difficult match to deal with, as we're all thinking about the game against Nancy as well. They players wanted to get qualified as quickly as possible but we came up against a team that was well organized and technically very good. They are a Cup team and tonight they showed what they are capable of. On Saturday we have a very complicated match to play with a lot at stake.

Alain Perrin : I'm very happy to be in the final. We managed to stay well organized in front of a team that played really well for the first half hour. We still had a bit of trouble finishing things off even if we did create a lot of chances. We had trouble putting in the final pass and finishing off, the pitch didn't help though. We had to stay lucid in the second half and not go all out. The players were taking risks as they really wanted this qualification. We weren't safe from being hit on the counter attack. We didn't manage to score earlier which would have allowed us to make different changes.

Hatem Ben Arfa : We were better in the second half with more space and we created more chances. Going to the Stade de France is fantastic but we have to concentrate on Nancy and the title. I hope we'll go down in history by doing the Double.

Juninho : I hadn't scored for a while even if I hadn't been too far away from doing it. I hit the bar against Valenciennes and Nice …sometimes it goes in others not. The coach started me on the bench tonight which was a good idea. When you come on during a game you can sometimes make the difference … I had a bit of luck. I'm very happy that we are in the final.

Mathieu Bodmer My header? I didn't vconnect well with the ball as I didn't jump at the right moment. I'm more bothered by m yside foot shot that the keeper managed to save. I think I probably had the time to control the ball and place it. Juninho scored a great free kick which was just what we needed, i twas a difficult game even though everyone thought we would qualify with ease. It's never easy to win a game. It's going to be a great game, here's hoping we will be champions by then though.

Jérémy Toulalan : We still have three games to play and we must give our all. We have to now concentrate on Saturday's game which would make for a great week if we win. We managed to avoid extra time which is good, even if the end of the season will be decided by mentality rather than fitness.

Cris : I'm disappointed not to be able to play in the final, but I'm still happy we made it. Now we have to win it. The referee's decision was hard to take but you just have to accept it. There are three games to go for us to go down in the history of the club, we have a real chance of doing it. We're ready!