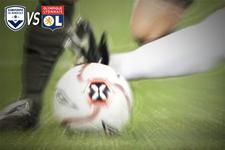 It's been a long time since there has been as much suspense around the race for the title of French Champions…
OL have a 2 point lead over Bordeaux with only 2 games left to be played. French football fans have not been used to such a scenario in recent years. You have to go back to OL's first three titles. During the 2001-2002 season, OL became champions after round 34 (of 34) beating Lens in the game and to the title with a 1 point lead. OL were one pôint down with 2 games left to be played.

During the 2002-2003 season, OL had a 3 point advantage on the night of game 36 before becoming champions thanks to a draw with Montpellier in game 37. During the 2003-2004, OL had 4 points over Monaco after 36 games. OL were crowned champions even though they lost 1 - 0 to PSG at the Parc des Princes in game 37, Monaco losing 4 - 1 to Rennes at the same time.

During the three following campaigns, there was absolutely no suspense after game 36. OL had respectively 9, 16 et 20 points more than their closest rivals.