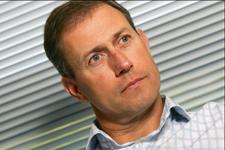 What is your reaction after Bordeaux's victory against Marseille (2 – 1)?
Bordeaux have had an exceptional season, are right on our tails and will push us right to the end. But we are still in front and our destiny is in our hands. Bordeaux's victory does however complicate our week. We have an obligation to keep pushing hard and go looking for points.

Has their win affected your morale?
No. A title is an elimination race. We are still in front. We simply have an opponent that his hanging on, contrary to what has happened in recent years. But we are not worried, we play each game to win. We're no longer playing against Bordeaux. They will not get past us if we win our remaining games. Our philosophy will not change. Even before Bordeaux beat Marseille, we had a desire to go out and beat Nancy. So nothing has changed.

When Bordeaux scored in stoppage time against Marseille,did you say to yourself that they had the « luck of a champion »?
No. I just thought that Bordeaux were a bit lucky to finish the match in the same way they had done against Toulouse. Inversely, we have been caught out at the end of games like against Rennes. But I'm just concentrating on my team.

Do you think they will pip you to the post?
I'm not thinking about that. Bordeaux will go their way and we will go ours. There is no extra pressure on us. We have to keep going, push right to the end. That's how we are made to play. I'm preparing the team for the next game which is against Sedan. On Wednesday, we'll have to keep in mind the short amount of time between the two games against Sedan and Nancy, of these two games which will be crucial when we look at the results of the season. My preoccupation at the moment is to prepare the team for the semi-final of the Coupe de France even if, in terms of squad rotation I have both games in mind.

Precisely, to win the semi-final of the Coupe de France against Sedan, are you planning on putting out a B team so that the normal starting eleven can get a rest in view of the League game against Nancy ?
There will be no B team as neither the trule book or the sqaud allow for it. On top of that we really want to get through to the Final. It's true, however, that it will allow us to see the strength in depth that we have and to change things around a bit to keep the players fresh in view of the games we have coming up. I'm payed by the club. If the boss (Jean-Michel Aulas) had called me in to say : « We'll put out the amateur team », we would have put out the amateur team. But that's not what he has said he wants. We've spoken : we'll try and manage the squad as we want to get to the Final and we want to do the Double. It's up to me to deal with these two games in the best possible way.

Does Bordeaux's result mean that you will change the composition of the team that you will put out against Sedan ?
Playing three games in a week forces you to make changes. If we had won the title yesterday we could have put out our strongest team against Sedan and forget about the game against Nancy, but as it stands the League is still our priority. Our priorities were decided long ago : the first is the League. On Wednesday, we will be managing the squad but with the desire to get to the Final and do the Double.

Are you planning on starting Anthony Réveillère and Fabio Grosso against Sedan ?
Of course, they are part of the fresh blood that we will be putting into the team. My objective is to balance the team well, bringing in fresh legs, quality and experience.

Could Hatem Ben Arfa start against Sedan on Wednesday?
He's one of the solutions we have, just like Delgado or Crosas.

Are you worried at all? You're playing against a Second Division team, who will be more than up for the game …
Playing against an oppenent that is weaker than you and who will be at 150% is always a challenge. I've seen a few of their games. They are a well organised team, who play good football, who play a very offensive game. They are capable of being solid as well, as they proved against Bordeaux. We will have to stay well balanced and patient.

Do you think that this is the most important week of OL's season?
Yes, as it can be decisive. But the important week is always the one that is coming up. We have certain stages to go through : a semi-final of the Coupe de France then the reception of Nancy which we will have to deal with.

Do you tell yourself that OL can still win everthing but also lose everything?
Yes, but that's the same for any club that is involved in a number of competitions. In England, Manchester United and Chelsea are in the same situation. We not going to be hoping for an elimination in from theCoupe de France. We're happy to be fighting for the competition.

Is it easy to motivate your players at the moment?
It's easier than it was a few months back when there were more games and more objectives. The players know what the semi-final of the Coupe de France means, they know all about Nancy, third in the League. I'm quite calm, as it is easier to prepare for a match when there is so much at stake.