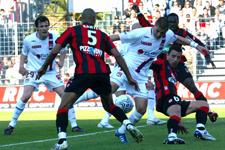 OL will have to wait. The first consequence of the second no scoring draw of the season between OL and Nice is that the suspense about who will be champions of France this season is far from being over. Whatever the result of the game between Bordeaux and Marseille tomorrow night, Alain Perrin's men will have to wait until next week's game against Nancy, maybe, before taking their seventh French title in a row. They are still in a good position even if the point brought back from Nice wil not please everyone, they had hoped for more, as was shown in their excellent first half. A win would have allowed them to watch the game between OM and Bordeaux with the hope of being crowned champions after the game, now they will have to wait. This doesn't change everything : on Sunday night they will still be hoping that OM win, not for a title win but to not see Laurent Blanc's men reduce their lead to 2 points.

It's not that they did not try and force the decision , especially during a very open first half where either team could have opened the scoring. Lyon were ahead on points hitting the bar twice to Nice's once, but Lloris's crossbar pushed away succesive long range efforts from Juninho (25th) and Toulalan (28th), Coupet's a Koné effort from the outside of his foot after a save by the OL keeper (16th). Cris managed to put the ball past Lloris but his goal was disallowed (18th). Thanks to the crossbars, the two teams went in at half time level, despite the desire shown by Lyon. Lyon, who would have deserved to be ahead with all the efforts they had put in and attempts on Nice's goal. After breaking through the Nice defence, Karim Benzema was unable to hit the target (7th) then Lloris came out and saved at the feet of the French international (10th), Juninho's free kick grazed the post (12th), Cris (15th) and Boumsong (21st) both headed wide.

The second half was less exciting, Lyon being less inspired. Benzema (55th) and Källström (65th) both shot directly at Letizi and Bodmer fired wide (73rd & 83rd). It was a shame, as it was clear that Nice, without Laslandes, Ederson & Lloris after the break, injured in a challenge with Källström, were not looking to attack very much. Apart from Koné who hit the bar and fired another shot way over the bar (76th), only Bamogo, who couldn't connect with a cross from Koné (11th), thjen was tackled by François Clerc after he had gotten past Coupet (22nd), Balmont who fired directly at Coupet (61st), and Modeste, who fired over (74th), managed to worry the OL defence.

All that is left for OL is to wait for the result of the game between OM and Marseille. With a 5 point lead over Bordeaux, they are still in the driving seat. If Bordeaux don't win at the Vélodrome, a win is all that OL would need against Nancy to take the title next week.