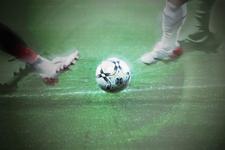 From Lake Leman to the coast of the Mediterranean, OL go from a training camp to the real competition. Nice, an important leg on the road towards the 7th title...
Now it's time for the harsh truth of the pitch hopefully profiting in full from the benefits of the week spent in Evian. Around 270 minutes are all that is left to be played in the 2007-2008 season. One solitary goal, the title of Champions and the hope that it will happen as soon as possible. Suspense is good for everyone else ! Juninho and his teammates know that if they win at the Stade du Ray, the title could be celebrated on Sunday night if Marseille manage to beat Bordeaux in the televised game. A draw between OM and the Girondins would have pretty much the same effect becuase of Lyon's favourable goal difference. And if Laurent Blanc's men won, that would keep them four points behind OL with only two games remaining.

No question of going through the 90 minutes against Nice at anything less than 100% as was the case against Caen or on a few other occasions. If not, watch out for the team from Nice … they will not be handing out any favours. A group of proud warriors led by the lively, demanding and charming Frédéric Antonetti, they like to « get into » their opponents. On top of this aggresivity, they have a mix of experience, organisation and talent (Echouafni, Rool, Balmont, Koné, Lloris…) and are roared on by their fervent supporters. Nice, 2nd best defence in L1, will be without Ederson, the future Lyon player, Laslandes and Jeunechamp. Lyon will have to watch out for the speed and realism of Koné, 12 goals scored including 10 at home. Nice, apart from pulling of a prestigious win, stil have a chance of taking a European place. Nice have not beaten OL at home since Lyon won ther first title … which can only be supplementary motivation.

This hard slog against Nice, will have to be done without a specialist left back. Grosso and Réveillère are suspended, the solution looks to have been found in the left-footed Swede Källström, who could be helped out by having Govou in front of him. All that remains to be seen is whether « Toulalan » will be back. His left knee has healed but is still painful, the former Nantes player hopes to be on the field for the game. His presence would be beneficial to the balance of a team that has been blowing hot and cold recently.

No quarter ! Play at 100% so that there can be no regrets, win... knowing that even if they don't it's not dramatic as they still have a joker to play (draw or defeat) thanks to their 4 point lead. « It all depends on us … ». How often have we heard that phrase? It's true, Lyon are the masters of their destiny and the future title. So, successfully negociating the trip to Nice would be a decisive, just about, step towards the title of Champion.