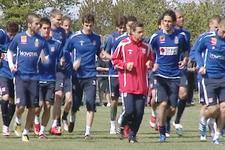 Rendez-vous was taken in Publier this Thursday morning for the training session… before the press conference on the terrace of the Ermitage Hotel…
The was a big crowd at the Publier stadium to watch Lyon's training session on a magnificent pitch under a sunny sky. A 45 minute session started at 11h00 with a traditional warmup period, a seance that the goalkeepers went through with Joêl Bats.

After this session, the squad worked on finishing and then ball conservation with some heavy pressure put on them. No favours were being handed out on the field, everyone was playing with intention. Jérémy Toulalan was there but still does not know if he will be playing against Nice. The 45 minutes were finished of with some stretching under the impatient gaze of the youngsters who were there for photos and autographs. There were Italians there for Fabio Grosso who obviously went to see them. Coupet, as always, smiled through all of his sollicitations. Keita and Govou signed their fair share of autographs... And what can we say about the phenomenon Benzema. There really is a « Benzemamania». The young striker is well aware of this and delighted his fans by spending a lot of time with them.

In the crowd was, the Mayor of Pluvier, Mr. Gaston Lacroix who was very happy. His councillor and former footballer, Richard Dutruel, kept an eye on proceedings. At 12h00, it's already time to climb back up the hill to Evian. There is a lunch programmed at 13h00 and a press conference for Alain Perrin, Grégory Coupet, Karim Benzema and Sébastien Squillaci. The players are free this afternoon before going back out onto the field tomorrow in Evian for the last session of this training camp.