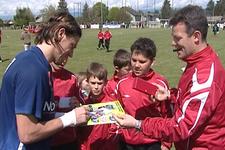 "Greg" responded to questions from the media before spending his afternoon off doing a bit of sport...
He arrived in front of the assembled press with a smile on his face, as he was with the youngsters after the training session and as he was in the spa. "Greg the joy of life "is enjoying this week. "The start of the camp was based on the cohesion of the group. It was fun. But it wasn't a sort of group therapy. It was a chance for us to discover one another differently. We've had a good laugh. We've recuperated, but also worked hard in order to be victorious at the end of the season ". He added: "this season has been complicated, I'm well placed to talk about that. But it is exceptional to be where we are ".

"Greg" has far from had enough of his job and success. "Not only do I not tire of winning , I don not even consider defeat. No question that we step down. The performance itself is fantastic as well as the duration. Each season, OL are the team to beat. We have been the hunters, and now we are being hunted by Bordeaux". The Double ? "So we've added another competition. Let's play the semi-final fist. The Cup is always a special competition, difficult to deal with. Playing at home has been good to us, now we must beat Sedan."

[IMG42822#R]3 matches to go in the League. It starts in Nice. "We'll be there, aggressive, motivated. We know all about Nice and their warrior mentality. We know it, we're used to these types of game. It's always difficult at Nice. No question though that we get big headed ".

Leaving the press behind to go and eat, the international took a bit of rest and then headed off to the tennis courts alongside Pat Müller, Fabio Grosso and Romain Beynié. The guy never passes up an opportunity of having fun. It's one of his great strengths.