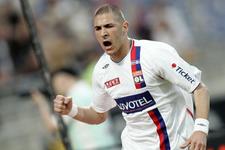 Karim Benzema has reached 30 goals this season in the game between OL and Caen...
19 goals in the League, 6 in the Coupe de France, 4 in the Champions League and 1 in the Coupe de la Ligue... adds up to the grand total of 30. 30 like 30 goals scored in an OL shirt by Lyon's striker . 30 of the 95 goals scored by the six times French champions in 50 official games.

He managed his first double in the League this season, his 2nd after the one against Nice during the 2006-2007 season, his 3rd in all (against Sochaux in the Coupe de France and against Glasgow Rangers). He has scored his 2nd headed goal after the one against Le Mans, his 3rd in total (Nice last season).

Benzema has now scored 42 goals for OL in 4 seasons (0, 4, 8, 30) and has scored in all competitions entered (League, Champions Trophy, Coupe de France, Coupe de la Ligue and Champions League).

He leads the first division scoring charts with 19 goals. 19 goals from 95 shots, in other words, a goal every 5 shots!

Against Caen he put away his2nd direct free kick after the one scored against St-Etienne. 2 free kicks that gave OL two draws.

And he finally scored, in the League, at the Virage Nord end of the ground. He hadn't managed that this season apart from in the Coupe de France against Metz and in the Champions League in the past.

With a running total of 30 goals in the 2007-2008 season, he has equaled the total scored by d'André Guy in the 68-69 season. He is behind Bernard Lacombe (1972-73) and Sonny Anderson (2000-2001). Bernard scoring 23 goals in the League and Sonny, 22. Figures that Karim can still reach, maybe even beat. In all competitions we find Kabongo with 32 goals(88-89) and Combin who reached 41 goals (63-64).