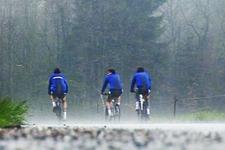 Good humour, especially shown by the Brazilians. The mountain biking was enjoyed by all despite the rain and the mud...
After a quick debriefing from Alain Perrin, at the hôtel, OL's bus drove the squad to the Vallée d'Abondance, in the Pays de Gavot where the air is pure according to the tourist guides. And the good weather? Impossible to see the Lake and an obligation to put the vehicules lights on!

10 minutes later, the bikes were waiting for the players. 5 minutes of fun getting everything sorted out. Fred managea to do some biking on the spot. Afterwards, direction La Fouilly for a tride around the forest passing by Crosson. A bunch of laughs. Keita is mocked by Bodmer: "he doesn't know how to ride a bike, or swim...". The Brazilians Fred, Juninho, Cris and the Argentinian Delgado bring up the rear. Fred & Cris are playing the clowns and don't hesitate mooning all and sundry like a bunch of schoolboys! « Greg » is in stitches and wonders if there was a camera to immortalize the cliché. A bit further on and the two jokers have upped the pace before resting on the way up … all smiles.

A bit more of the forest and then back to the hotel by bike. At 18h00, this filthy group could go and get cleaned up and for those who wished to, check out the swimming facilities at the Ermitage. Finished the fun and games. « Juni », met in the hallway, admits that he felt a slight muscular pain. « I think it will be alright… Since the start of January it just hasn't stopped… ». The Brazilian has managed to keep his good humour though.

24 players, the staff (5 people), the medical staff (4), the 2 intendants, 2 security men and Robert, the driver, in other words a group of 38 people are in Evian. Tomorrow there will be no ball work either. And here's hoping that the rain stops.