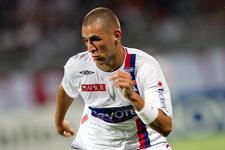 Reactions from OL and Caen on OL TV.
Grégory Coupet :
The group reacted well and you could see the desire to turn things around. It's good as, in the first half, they knocked us around a bit, Caen made life diffficult for us. After the break, we pulled our sleeves up, tuned up our game and put in some super football. So we're very happy with the point we have taken. What made the difference in the second half was the desire to turn things around, the fact that we just weren't good enough in the first half. We refound our game and saw the OL that we love. Tonight, it's the team that should be congratulated. At 10 against 11, against at team that were playing for fun and wanted to play, we put in a lot of effort. The squad was fantastic. I hope that Fabio (Grosso) realises we don't hold it against him, that we are behind him and that our revolt in the second half was for him as well. My save in stoppage time? When you are goalkeeper, faced with a free kick like that, it's really up to you, it's a bit crazy, the ball can go anywhere. I'm happpy that I stayed on the right side of the goal and let me send my best to « Jo » (Joël Bats) and his family (Joël Bats lost his sister this week). We have to keep going and to keep in mind the group's reaction. Now we are going away for a team break. We're going to try and recuperate as we are going to have a very busy week.

Christophe Galtier :
We went through the whole spectrum of emotions. We were happy to open the scoring even though we played poorly in the first half. We then conceded two goals one after the other. In the second half we came back on a man down. I have to point out the good spirit in the group. A lot of things were said at half time, we saw a lot of positive attitudes in the squad. These are games to be used as references. Throughout the game we were keeping abreast of the game between Bordeaux and Nice. Against Nice, we will be without Anthony Réveillère and Fabio Grosso : we will have to find a tactical solution to replace them. Grégory Coupet? He was decisive, just how we like him. It's all down to his talent and experience.

Kim Källström :
It was a game full of emotion. Our first half wasn't the best but we are very proud of our second half performance. We are warriors and have our pride, we wanted to show just who is in charge in the League. We didn't want to let the game go as we had done in the first half. Bordeaux did us a little favour. We're not sure whether or not to be happy or disappointed, even if I think the results have gone better for us than for them. We're in the same position, but there is still work to be done. It was tough seeing my free kick hit the bar. I thought it was going in.

Benjamin Nivet : For us, drawing with OL at Gerland is very satisfying. We like to play an offensive game and that worked out well tonight even if we suffered in the second half. When they had a player sent off they worked a lot harder, we tried to play out the game but they managed to turn things around. I'm satisfied as Bordeaux drew with Nice, I prefer the way Lyon play, it's much nicer to watch than Bordeaux's.

François Clerc : At half time we were a bit groggy. Instead of knocking us out, Fabio Grosso's sending off woke us up. We revolted. By giving 200%, we managed to play well and could even have won it. Nothing has changed except that we are closer to the end of the season. If we can beat Nice next week, we will have made a great stride towards the title. We have to keep playing like we did in the second half tonight.

Franck Dumas : I'm happy with how my guys played in the first half. In the second, we lacked a little experience and Lyon refound their strength and finesse. As far as I am concerned OL will be champions come the end of the season.

Karim Benzema : We started well enough and managed to open the scoring before messing things up by conceding two goals. When you are down 2-1 at half time it's difficult, but in the dressing room there was great desire to get back into the game. Fabio Grosso's sending off gave us a push in the right direction, we played with real guts after that. It's great to score two goals especially as I've been injured quite a bit recently. I felt good at the end of today's game. The free kick? It was good for me and the team, but Juninho is still number one in that domain. As for the little lob (which went over), it's an attackers gesture which I work on often in training and I like doing. If you put me in the same position 15 times, I'll try the same gesture 15 times. It didn't go in but the keeper came out very quickly and I didn't have much of an angle. The draw is a good result for us. We were losing at half time and down to ten me. I think it's pretty much a victory for us.