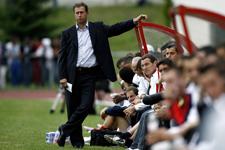 Alain Perrin speaks of the Coupe de France semi-final between OL and Sedan and Saturday's game against Caen in the League.
How do you feel about the possible boycott of the Coupe de France semi-final?
I'm paid by the club. The president has told me that the game against Nancy is the priority and we have to spare a certain amount of players for this game which could be decisive, we're going all out for the title. There are still a number of games to be played, we'll see how the players are holding up, how fresh they are and were we are with suspensions. We'll decide what team will play against Sedan the day before the game. It would be better for us to play our League game on the Tuesday. We'd be better off with three days preparation for the game against Nancy. Its logical that we ask for the game to be played on the Tuesday.

Do you really think that the Coupe de France game will be ignored?
It's still a fair way away, there are two games in between so I'm not thinking about it at all just yet. Today, I'm thinking about Caen, what interests me is the team that looks the most capable of beating them.

Playing on the Wednesday and then the Saturday is something you have already done, notably in the Champions League. It's do-able...
Sometimes we have to do certain things but there are also better ways of doing them. Of course we can do it, it's already happened that teams have played 2 games in 2 days. You can do anything in a short space of time.

How are you preparing for the game against Caen ?
We have to take control of the game as we are playing at home. But, in our preparation, we have to take into account the abilities of the opponents. We are always playing against teams that have a good reason to come and pertube us, it's been like that since the start of the season. They try and trip us up, to beat us. I'd like it if there was more vigilance concerning the protection of players. When I see the players that are injured at the moment, especially the international players, I'm worried about the amount of matches we have coming up. I'm worried for the French national team as well, for the guys that could miss out on the European Championships, as they are considered « marked men » by their opponents. It's up to the referee to protect the players on the field and us to be ready for the end of season combats. Even if Caen can come here without anything to play for, they'll be looking to create an upset and we'll have to be at 100% for the game.

Do you feel that referee's are not as vigilant as they should be at the moment?
I think they need to be reminded that they have to protect the players and that they have to quickly get a feel for the match when there are a lot of fouls in the opening minutes. They have to stamp their authority on the game before things get too bad and you find yourselves two players down after half an hour.

Your thinking of Karim Benzema and Ducrocq's foul…
Also Fred against Marseille, Toulalan, etc. As sometimes the levels of aggresivity are sometimes on a fine line.

Do you think that there has been a change in mentality in the Lyon dressing room recently, the payers realising that they have to remobilise for the final sprint home?
Yes, but the problem is not there. The desire is there, no doubt, but they have to not be afraid of winning. They have to show on the pitch their desire to win the Double and not expect the opponents to do them any favours. We have to show everyone who is the boss and take complete control of games.

Caen are assured of staying in League 1, as of last weekend. Do you think they'll be playing more freely, without fear?
They are a team that plays good football, they pass the ball well and their players do a lot of running, as Nivet and Gouffran prove. They are a good team and we'll have to stop them finding any space, as if you do they are capable of showing their quality. I saw them against Bordeaux and Marseille, when they are away from home they like to capitalise on any space they are allowed. We have been working on our closing down in training this week. Our opponents use that on us to try and stop us from developing our game.

How did you feel about Jean-Michel Aulas's declarations in L'Equipe on Monday?
It's part of the job. My professional future is not something I control. I'm not worried, I'm working and concentrating on winning the next match and to finish of the season in style with the players. It's not stopping me sleeping, I'm concentrating on what the team needs.