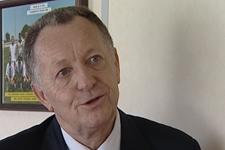 President Jean-Michel Aulas spoke to the OL squad on Wednesday morning before training. He tells us about the reasons for his visit and talks as well about the contract extensions offered to Coupet, Fred and Ben Arfa...
On Wednesday morning, training started a little later than usual. Jean-Michel Aulas came to speak with the OL squad.

President, what was the reason behind your visit this morning ?
« We're coming up to a decisive point of the season. I felt that it was right for me to come and talk to the group about our ambitions, to remind them of the strength of the club and the different elements that make it up. I wanted to say what the OL family represents for the head of the clan and to say that every link in the chain, i.e. the players, were important. Each link must be as strong as the president. Without getting on my high horse, exemplarity must be the order of the day for the next month in order to write a page in history that has never been done in France or any other major European league. The sqaud has been fantastic this season, despite the different things that have happened. This squad managed to dig deep and find the ressources necessary to take us where we are right now. Now we have to regroup. It was important to speak to the family ".

Your force, is unity ?

"Yes. For better or for worse, with what has happened to Joël Bats today an example. OL, despite what is thrown at them, keep on wanting to win. In the face of adversity, they are able to resisy and to win. In the past we have won titles in different situations. Today is not new for us. It's up to us to show in our remaining games we still have this habit of winning. We mustn't be egotistical in these situations. Success will come from a groups desire to win. We would then take a seventh title and maybe the Coupe de France ».

Where are you in your discussions with Coupet ?
« Greg, is a real man , a great player, one of the best keepers in the world, a man who has succeeded in football. He has as well certain values we associate with rugby players. He know he has to give a maximum to receive as much in return . He is one of the players that holds up OL. I hope he will accept our offer and stay with us in view to coming onto the staff after his playing career is over. He'll then be able to see that the OL family looks after their own once they have stopped playing ».

You've also spoken with Fred and Ben Arfa ?
« Fred, we saw with his brother, who acts as his agent, Bernard, Sonny and Marino. We talked about everything. There is nothing stopping us going on together. We offered him a 3 year extension. I felt like I was speaking to a whole new Fred. I really hope he will sign. Hatem ? It's the first time we've spoken to his agent. Which is good news. We're going to offer him a contract and then we'll start negociations ».