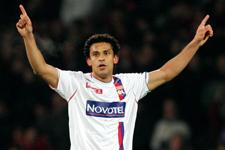 Fred has recovered from being ill. He was present at training and then answered questions from the media…
The President Jean-Michel Aulas came and spoke to the group before training. What did he say ?
« To stay concentrated for the month ahead. He told us that he was behind us in our quest for our two objectives. This month is going to be decisive for everybody. The squad is thinking about this season and nothing else».

Have you spoken with him about your future ?
« Yes. He offered me a three year contract extension and I'm very happy with the proposition. Everything went well. We'll look at it and discuss it with my brother. Everything is looking good. OL are a big club with great expectations. I'm glad I decided to stay here ».

Are you still thinking about the National team ?
« Of coures. But everything is dependant on my performances with OL. I know there is going to be a game in my home town of Belo Horizonte against Argentina in June. I also know that Dunga is well aware of what is going on».

Do you think OL can be performant in both competitions ?
« Yes. Both competitions are important. But we have to take each as they come. First of all the League and then the Coupe de France. It won't be easy. In the League it is up to us as we have a four point lead, but we have to play a lot better in our final three games and not worry about Bordeaux. Our game? Each season has its ups and downs. We must beat Caen ».

Do you think you'll manage to achieve your target of 10 goals ?
«It will be difficult, but there are 4 games left for me, I'll try and get there ».

A word about the session in Evian ?
« It's good to do some special preparation. It's not easy to be away from home for a whole week, but sometimes you have to make sacrifices in order to achieve your objectives ».

A look at the injury situation with "Doc" Jean-Jacques Amprino

"Karim Benzema is available. Jérémy Toulalan has felt no pain for the last 2 days. He is still working on his re-education. Patrick Müller? Everything is fine. We'll see about him getting back out on the field in a couple of days. Cléber Anderson? He came in for us to check him out. He is right on schedule and where he should be after 3 months ".