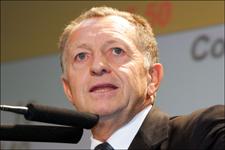 How do you feel after the win over Strasbourg ?
We must congratulate the Lyon team for turning things around. It was difficult as the game was being played in front of a very partisan crowd against a team playing for their survival. We can continue hoping after this game. As for the comments that were made, it's a bit more delicate. Calling Fabio Grosso a « Piece of s**t Macaroni», is going a bit far. Jean-Marc Furlan, who is a nice guy, went nuts. At this level, you can't do that! I was disappointed, outraged by his comments, but also outraged as the two yellow cards against Mouloungui were perfectly legitimate. I found it scandalous that such comments could be made against a referee who, apart from when Karim (Benzema) was injured by Ducrocq, put in a great performance.

Are you going to put in a formal complaint?
We'll talk to Fabio Grosso about it. He has such an amazing character he'll not take any notice of it.

You have spoken to L'Equipe this morning. Do you feel that the team needs to hear something from the president?
Getting to the top and staying there needs unity. The squad needs the confidence I have in them but also to see how we look at things in order to be successful in the future. There must be strong people getting everybody behind a common objectiveP in order to make things positive and fight of any negativity.

You speak of « unity ». Do you think the group is a little less united at the moment?
We made up the group with some people who came from another club, Sochaux, and a staff that was already in place and had won titles. We needed unity and cohesion, something which has evolved over the last few weeks. I'm pretty much happy with what is going on. The staff and the players have the same ambitions. When it comes down to it, of we have players that are complimenary, we will have succeded in a difficult task, seeing the established and new players working together with a common objective of winning a seventh title and the Coupe de France. But when I see how Lyon are treated in the media, I can see that a lot of the things said, do not exist, obliging us to regroup and react. That is why I responded yesterday, at no moment, however, talking of changing coach. You have to run a club like a successful business. We'll analyse things at the end of the season. The board will be looking at quality and quantity. After this analysis we'll look at « how we achieve the set objectives? ». We'll look at how we preapre for future challenges. But now is not the moment to be looking at this type of question. Alain Perrin and Christophe Galtier are under contract for two years, they are doing their best. They will be here next year, unless we look at things differently and decide to change objectives and the organisation, but nothing looks like changing for the moment. Some have spoken of Rémy Garde, Didier Deschamps. We contacted Deschamps last year before Alain Perrin, at the time he was under contract to Juventus. There has been no contact since. As far as Rémy Garde is concerned, he is doing an excellent job at the club, has our entire confidence as far as recruitment is concerned but does not have his coaching badges.

This morning, in L'Equipe, you said you had concerns about the physical preparation at the club … What did you mean exactly?
I just feel that we have been in more difficulty in certain games, compared with other years. But as Robert Duverne was and will be the fitness coach, as his contract runs until 2010 and we want to prolong it, I don't see why anyone would imagine that I was questioning his methods. The way I see it is that there are certain decisions that have to be made at certain moments. The one that was made concerning the preparation for the next 5 or 6 games is through a certain amount of extra work. I also said that Robert Duverne was the clubs fitness coach but also coach of the National side. There is always a certain amount of ambiguity when you are lucky enough to have the firness coach of the French team : it's knowing if the interests of the National team are coherent alongside those of the club. But it's more of a chance for us than an inconvenience to have someone like Robert, who is on both sides.

Should the Champins League be considered an ambition for the future?
Next year, will be the first year that we play in the Champions League as top seeds, as we will be going above Real Madrid and Inter Milan in the UEFA ratings. This year, the difference between us an Manchester was so slight that it can hardly be called a missed objective. If the players get it into their heads to do better, we will do great things in the future. Today our priority is to win a seventh league title. In the future we will probably change this priority. I think that in the future the board will want to get things organised so that we can win a European title as quickly as possible.

In order to win a European cup competition, you have to recruit big and keep a hold on your best players. Speaking of this, where are you in the negociations with Hatem Ben Arfa ?
His contract runs until 2010. We're speaking to him about an eventual prolongation, we want to keep him. And we will take into account his ambitions.