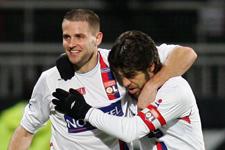 OL won an important game against Strasbourg. Losing at half time, Lyon turned the game around in the second halfthrough goals from Bodmer and Grosso. They now have a 7 point lead over Bordeaux, who play on Sunday.
OL won an important game in the race for the title in Alsace, as the victory places Bordeaux 7 points behind them, Bordeaux who will go to Toulouse on Sunday having to win the game or see their title hopes disappear. Is there something to be seen in the fact that OL won, probably one of the most important wins of the season, in a style that is far from their usual? Starting poorly, Lyon had to chase the score for a long time but had the merit of not giving up , made up for their technical errors with great desire throughout. Against a Strasbourg side that were far too meak after they opened the score, and who had to play with 10 men after the sending off of Mouloungui, dismissed for to blatant fouls in the space of four minutes (40th & 44th), it was enough.

Things didn't start too well for Lyon. After a cross from Fanchone, Mouloungui, tested Coupet out with a header (3rd). The next chance was the good one for Strasbourg, Renteria firing home a cross from Johansen (21st). For the fifth game in a row in the League, OL conceded at least one goal. Thankfully for them, Strasbourg didn't go all out to score a second. Apart from an effort from Renteria saved by Coupet (51st) and a "two against one" wasted, with a little help from Bodmer, by Mulenga (80th), Jean-Marc Furlan's players were defending close to their goal in an attempt to hold on to their slender lead.

Lyon, themselves, were finding it difficult to put themselves in good positions. Juninho's effort went over (17th), Kader Keita, offside, made Cassard look good, the keeper then punched away a free kick from Juninho (22nd), saved a shot from Karim Benzema (26th) and saw headers from Boumsong (27th) and Bodmer (31st) go just wide. Nothing was helped, after losing Toulalan (knee) and Fred (throat infection), when Alain Perrin lost Karim Benzema in the 36th minute. Picking up a knock on his knee after a challenge with Ducrocq, the League's top scorer, was replaced by Govou. As was the case against Marseille, Lyon had to play without a recognised striker. Bad memories started to come back to the team, two weeks after the failure at the Stade Vélodrome. Especially, as after a one-two with Juninho, Hatem Ben Arfa hit Cassard's left post before Keita missed the target (50th).

But one of the strengths of the a champion is the capacity to be able to profit from rare chances which are presented to them. In the starting line-up for the first time since the trip to Old Trafford, Ben Arfa forced the opposition defence into a lot of work. In the space of 7 minutes, the French international was at the start of Lyon's come back, taking the game by the throat and getting to decisive corners. Keita put in two decisive passes for Bodmer (61st) & Grosso (68th), the Italian scoring is first goal of the season for Lyon. At the best possible moment...

With the extra man, Lyon kept their hosts quiet up to the final whistle, not without giving their opponents chances by conceding freekicks 20metres out from goal. Depending on the result of Bordeaux's game tomorrow against Toulouse, they will welcome Caen to Gerland in a week's time with the same or bigger lead than before today's game. In any case not less … And that is what counts.