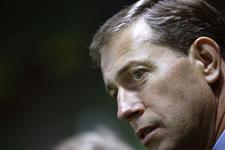 Two days before OL's trip to Strasbourg, Alain Perrin talks about the squads team spirit. He also speaks about Strasbourg, the absence of Jérémy Toulalan and Sedan, OL's opponents in the semi-final of the Coupe de France.
On Saturday OL are playing away to Strasbourg.What type of match do you think it will be?
I'm hoping Fabio Grosso will be back for the game. We'll be having a look at him tyomorrow to see if he'll be in the group. It won't be easy against Strasbourg. It's a game that is important to both teams : Strasbourg are playing for their survival, us, well the title could be decided on the outcome of this match as there aren't to many games left to go. Either we manage to keep our advantage over Bordeaux, or, if we put in a poor performance, they catch us up. Each match has it's outcome and we can envisage either situation.

Do you think that there is no more rom for error?
We still have a four point over Bordeaux, so we still have a joker to play, but if we use it the end of the season will be all the more difficult. Our minimum objective is to keep our 4 point lead over them. Bordeaux catching us up has put pressure on us but the team generally reacts well to it.

Some players came out and said they were worried after the victory over Metz. Are you?
It's something that has been said after a game in which we allowed our opponents to create chances and after drawing the game against Rennes in stoppage time. What I have been looking at is the number of chances we created against Metz. If we'd been a bit more realistic we could have been home safe a lot earlier in the game. Yes they had chances but they were giving their all to try and save their season, I don't think they would have played the same way in the League. But each match is a new beginning. Against Strasbourg, xwe will be very determined as we know how important the game is.

What have you been working on since the game against Metz?
We've been concentrating on recuperation.

Is the team beginning to doubt?
No. But if there are some doubts it's a good thing as being too sure can lead to poor performances, as we have seen. You alway have to be careful as things can happen very quickly. Worrying can make you more vigilant and allow you to put in better performances. We are alert at the moment as Bordeaux are breathing down our necks.

What is your opinion on Strasbourg ?
They are on a poor run and are in danger. I think we'll see a game like the one against Metz, very physical. It's up to us to stay solid.

Does Jérémy Toulalan's absence give you tactical problems?
We know how important Jérémy Toulalan is for the balance of the team. He brings a lot of quality to the midfield, especially in winning the ball back. We don't have another player like him. Those who replace him play in their own way. Against Metz, I was pleased with the way the midfield played with Marc Crosas in there. I don't think Jérémy (Toulalan) will be back for the game against Caen (April 26th). Most likely it will be against Nice (May 3rd).

How do you feel about the draw for the semi-final of the Coupe de France against Sedan?
It will not be easy, even if we are playing at home which is nice, the public can make a difference in a game like that. Playing at Gerland is a small advantage but it's still 50/50, anything can happen in a game of football, the event (a Coupe de France semi-final) will make both teams give their all. But we have seen what Sedan are capable of, having gone to Bordeaux and qualified.