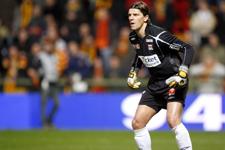 Reactions after the game between OL and Metz in the Coupe de France.
Jean-Michel Aulas : We are into the semi-final, it's a great moment for the club. Metz played really well and we were a bit poor, we doubted, it's all part of the spiral that started with the goal in stoppage time against Rennes. But we must remember that we have qualified. Metz are in great form away from home at the moment, had nothing to lose and caused us a lot of problems. We can continue dreaming which compensates the suffering of the game. The players gave their all but everyone was scared about conceding a goal in the last few minutes. We've only just gotten through every game in the Coupe de France so far this season. Some say that when the early rounds are dificult the later ones will be easier, we'll cross our fingers, go to Lourdes, do anything to help ourselves. The future is in the players hands, it's fantastic.

Christophe Galtier : The first half was good, very interesting, full of rhythm and desire to go forward. When you look at the second half, there are some questions to be asked. Is it something to do with the game against Rennes last Saturday? In any case, the start of the second half was terrible and we were defending on the back foot, we gave the opposition too many chances to score. Tonight there is satisfaction as we are qualified but there is also some worry for the future. We have to look at our ability to manage a result. We're having problems doing it at the moment. We are losing the ball too quickly. We play an attacking style which is sometimes risky and doesn't allow our block to advance and sit higher up the field. We lose the ball too quickly high up the field and there are then gaps between the lines, which allow our opponents to break through. When we are going forward, we have, at a certain moment, to be able to put our foot on the ball, as Juni (Juninho)did often, so that we can make the opposition work harder. But the solution never comes from the back, accepting balls in the box. I think that sometimes we try and score goals that are too spectacular. You have to try and shoot from distance as well.

Grégory Coupet : There's still a long way to go. Tonight we did what we had to in order to win even though Marichez put in a great performance. We tried but also suffered a lot in the second half : I'm worried. We have trouble dealing with certain moments of the game. For a team that wants to win the League and the Coupe de France, we'll have to tighten things up and analyse what is going wrong. We have to be more efficient.

Marc Crosas : I think I put in a good performance even if, physically, it was a bit difficult. I'm happy at OL. I'd like to stay here, we'll talk about the situation with Barcelona and OL so a decision can be made.

Yvon Pouliquen : we're disappointed tonight as we had chances to win the game – which wouldn't have been a small feat – but we weren't efficient enough. That's what made the difference. As a team we knew we could rival with OL's talent, but, sometimes the talent makes the difference. I'm still satisfied after having seen my team play a good game of football.

Anthony Réveillère : We weren't expecting an easy game but we didn't think it would be so difficult. In the first half, we did the hardest thing by scoring and creating numerous chances. The second half was a lot more difficult. We gave Metz hope. On our side, we were all a bit lost, late in our interventions. It's strange as we're not normally like that. We weren't too good tonight but we're through. We won't think about it too much if we win the Cup.

Juninho : Metz had nothing to lose and created 3 or 4 clear cut chances at the start of the second half. It's not normal for a team of our standing. But there were still some good things to take from our match. I'm very happy :it's the first time I'll be playing a semi-final in the Coupe de France. I've still haven't won a national cup competition here.