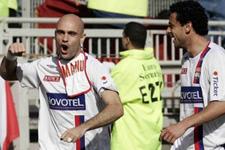 All the reactions after OL - Rennes.
Christophe Galtier : "We are very disappointed, first of all with the result, secondly that it came in stoppage time and thirdly that it came from a set piece. We had opportunities to kill the match though. We lacked a bit of attacking aggressivity, running, speed… We were missing a lot of things this evening. We knew it was going to be a difficult game. We had trouble getting away from their marking. I have to say as well that Rennes didn't give up throughout the 94 minutes. We were too calm after the opening goal, we had chances to put the game to bed but didn't put them away. And then, like often, there are balls that are not cleared, deflected shots … set pieces…
Only taking 1 point from 6 a few games before the end of the season is a very poor result. We were talking about three home wins in order to be champions, now we'll have to go and find the necessary points on the road."

Fabio Grosso : "We dropped two points here tonight against Rennes and we'll have to get them back on our travels. It's not easy but we just have to get over it. We now have to go out and win in the Coupe de France on Tuesday."

Grégory Coupet : "It's sad to say but this draw is all that we deserve looking at our performance. We're angry as we should never have allowed them to get back into the game but we are learning that to win the league you have to put in a lot of effort and be in the game completely. People are putting us down because we can win a 7th title in a row, but we haven't been speaking about the title just yet and tonights result proves the race is far from over. This draw is more like a defeat. We did nothing in the second half, nothing. Defensively or offensively. We dropped back, didn't play… the draw is more logical than frustrating. Our efforts tonight were not enough for a team trying to be champions."

Karim Benzema : "This draw really is more like a defeat than anything else. We often seem to concede goals at the end of games. We had the three points in our hands and theuy would have done us a lot of good. Unfortunately for us they equalised right at the end of the game. We are very disappointed. We managed to take the lead but not to keep it. We took our foot off the gas towards the end of the match against Rennes, who put in a very good performance. We will pick ourselves up and try and get all three points against Strasbourg. My comeback? I got tired out very quickly in the first half but got my sensations back in the second."

Cris : "The bib? It was for my daughter, I've been wearing it every game waiting to score. I was happy to have scored but not about the result. We dropped 2 points tonight and had hoped to take all three at home. We going to fight all the way so we can take home a seventh title."

Juninho : "It feels like we lost the match. Bordeaux can get back within 4 points of us tomorrow. There are still 15 points to be taken. Things can change very quickly. If Bordeaux beat Caen, we will have gone from a 9 to a 4 point lead in the space of a few game. As far as the title is concerned, nothing is decided yet. It doesn't mean we have to let our heads drop though. We know that you cannot always be on top form in football. We were poor this afternoon. We have to pick ourselves up for the Coupe de France game this Tuesday against Metz before thinking about Strasbourg."