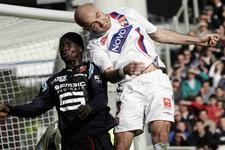 In the race for the title OL have once again been slowed down, this time against Rennes. After Niang and Cissé at the Vélodrome last week, it was M'Bia who upset their plans, after a free kick in the dying moments of stoppage time.

The visit of Rennes to Gerland was a great occasion for Lyon to get back on route for a seventh title, foot down, the day before Bordeaux – Caen. This draw means that Alain Perrin's men will have to get back the points dropped in their next away game to Strasbourg, which will not be an easy task. Now they just have to wait for Bordeaux's game on Sunday night to see how close they get to the leaders.

Sylvain Wiltord – starting for Rennes in a stadium he knows like the back of his hand – and his teammates can be satisfied with this draw which in fact resembles more a win for the Bretons. They can take a lot of confidence out of a game where they took a point from the six times French chmapions, confidence that will no doubt help them in the run in to the end of the season.
Their relief came in an end to the game that they dominated. OL were winning less and less duels and were being pinned back in their own half. Pagis who came on for Wiltord, given an ovation by Gerland, brought some freshness to Guy Lacombe's team. OL had not extended their lead and the Bretons were getting stronger and stronger after a poor 1st half where they came nowhere near to worrying Greg Coupet.
A poor 1st half saw it's only chances coming from set pieces. With, of course, Juninho taking charge of trying to carry the danger to Rennes. All eyes were fixed on him when OL's first chance came along after 15 minutes. Cris celebrated his return to the team by firing into Luzi's net after the free kick from « Juni ». Wiltord tried to get his team back into the match with a shot from 20 metres out which missed the target, before seeing another shot blocked by Govou (23').
Thomert hit a free kick which obliged Coupet into a full length dive to stop the ball to the right of his goal (31'). Cris came close to doubling the score after another Juninho free kick, but his shot was stopped by Lusi (37'). A missile from Kim Källström, once again after a free kick, was also stopped by the keeper. Mr Duhamel whistled for the end of the half just after Juninho was trampled on by Dembelé.

The second half started with a shot from Karim Benzema – back from injury – which hit the bar. Thomert had a chance straight away after this but Grégory Coupet was more than a match for him. Juninho, once more firing in a free kick, saw Luzi manage to get rid of the ball (61'). It was time for some fresh legs. Ben Arfa came on for Fred (63') then Pagis and Ekoko for Wiltord and Sorlin. The 84th minute saw a great chance for the former Marseille player, which should have warned OL. The OL defence managed to stop him a clear the ball but clearly the OL goal was coming under more and more pressure. Rennes had had 13 shots on goal when Mr Duhamel saw his watch tick past 90 minutes. « Too far past! » according to Christophe Galtier after the game. The 14th shot, in the 93rd minute, unfortunately hit the target and went in.