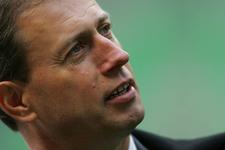 During his press conference, OL's coach stated that they could not become too complacent and that OL should only be thinking about their end to the season...
Alain has the defeat against Marseille changed anything ?
« Even if we had gotten a result against Marseille, we would still have had to beat Rennes at home. Our calm has not been affected by the loss. We have to be careful not to get too complacent, we don't have that much room for manoeuver. We've had to work hard this season to take points. We have six games left, three of which are at home. 3 wins at Gerland could be enought for us to be crowned champions».

You play before Bordeaux, do you want to up the pressure on them ?
« It doesn't matter what time we play Rennes. I'm thinking about our result and nothing else. The message before Rennes? Same as always : we have to get the points necessary for the title as quickly as possible. We can't try and play the percentages, the end of the season is still too far away for that. We can't let anybody surprise us ».

The absence of Toulalan?
« Jérémy, his running and his 3 lungs, are something we are going to miss. His workrate and type of game, we will have to try and replace. I don't think we'll have to work on anything in particular as the players all know each other well enough. My questions are about efficiency. Crosas ? He's one option».

Are Karim, Cris and Fred match fit ?
« Karim will be available. Fred has gotten back into training with the group. He will probably be available on Saturday. Cris will also be there ».

[IMG42355#R]The absence of Keita?
« Kader is suspended. He will use this time off to recuperate. As no-one else is missing up front it will be less of a problem to replace him. Ben Arfa? At Marseille, he came on and did well. It didn't surprise me after seeing the work he put in during the week. I'll probably have to choose between him and Govou for the starting line-up against Rennes ».

Rennes?
« They are a team that has managed to turn their season around quite well. They have a number of very interesting players, talented, unusual and unpredictable like Wiltord and Leroy. They have a lot of young players as well. Rennes won't be coming here to play second fiddle».