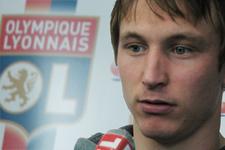 The Swede hasn't started a game since the 18th of March and the game against Sochaux in the Coupe de France. With Toulalan out injured, he could be called upon to replace him...
113 minutes playing time during the last 3 games that he started on the bench. This hasn't gone unnoticed for one of the players that Alain Perrin has used the most since the start of the season. With Toulalan out injured, he could fill in for the former Nantes player. His response? "I'm sad for Jérémy. He is a very important part of the group. But if the coach needs me to step in, I'm ready. I haven't started a game in a while and I really want to. If I have to play a more defensive role then so be it, I've already played that position in my career ».

And when we look for the reasons behind him being left out of the team, Kim has the answer. « Mathieu Bodmer just got better and better being decisive as well. Me, I was less decisive. It's just logical ». Is it important for him to be in the starting line-up, in view of the upcoming European Championships? « They are 2 completely different competitions. Let's concentrate on finishing the season on a high note, then we'll look at the Euro ».

[IMG42998#R]On Saturday the Scandinavian will be meeting up with his former colleagues at Rennes. « Rennes are back in the chase for Europe. I was surprised by their bad results as they have a good team. It will be difficult, it's the end of the season and everyone has something to play for. We can't have a15 point lead every year ». Is there pressure on the team now? « We were more comfortable with a 9 point lead. The defeat to Marseille has not made us doubt. We're strong at home. A 6 point lead? I think everyone would like to be in our position ».