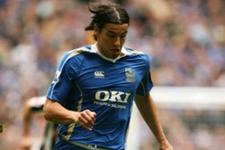 Milan Baros has reached the final of the FA Cup with Portsmouth...
Portsmouth beat West Bromwich Albion 1 - 0 (Kanu) in the semi-final of the FA Cup. Milan Baros started the game and played 71 minutes before being replaced by Nugent. Portsmouth will play Cardiff City in the final. On Tuesday, Portsmouth have a game in the League against West Ham.

Loïc Rémy, injured, took no part in the game between Lens and Metz (1 - 1).

Ederson played all 90 minutes against Lille. 0 - 0

Sandy Paillot has an important game with GF38 against Troyes on Monday. The two teams are battling it out for third place and promotion to the L1. GF38 are 5 points behind Troyes.

Fabio Santos played in the Copa Libertadores match for Sao Paulo against Sportivo Luqueros. A 1 - 0 for Sao Paulo. Fabio came off for Dagoberto. He took no part, however, in the 3 - 1 league game victory against Juventus.