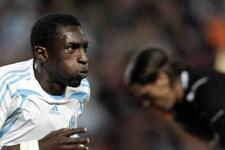 Two goals from Niang and one from Cissé allowed OM to win the game at the Vélodrome. Marseille have taken all 6 points from Lyon in the League this season and are now only 3 points behind Nancy. OL are still 6 points ahead of Bordeaux.
Against an OM team still in the race for third place, OL's start to the game was not good enough. Too worried, too approximative in a physical tie (too, maybe?), a rough game with bruises and injuries to show..
Toulalan and Fred paid the price. Dr Amprino didn't have time to get coldand had to intervene in the 6th and 22nd minute … accompanied by the stretcher. Kim Källström & Hatem Ben Arfa had to come on. Alain Perrin, saw his possibilities of changing things around diminish and found himself without an aknowledged goalscorer, with Karim Benzema still out.
Of course, despite the sanctions (Cana & Cheyrou), OM profited from the occasion. Mahamadou Niang, beaten by Sébastien Squillaci (11') & Samir Nasri, who missed out on an open goal (14'), were not able to see OM home safe... Just as OL thought the storm was over, Cissé, played in by Samir Nasri, gave OL a cold shower contoling and hitting the ball as quickly as it was done efficiently (26' ; 1-0). Lightening hit for a second time a few seconds later, Niang fired past Greg Coupet from close range after a pass from Cissé (28' ; 2-0).

At Mandanda's end of the field, only Juninho got anywhere near goal … and that from freekicks (35'; 37'). Sidney Govou tried as best he could but came up too short after a cross from Fabio Grosso (42').
Just before the break, an error from Lorik Cana gave a glimpse of light to the OL team. After another free kick from Juninho the OM captain headed into his own net after being put under pressure by Jean-Alain Boumsong (45' ; 2-1). Bodmer's header from a corner was just lacking enough power to trouble Mandanda (46').

The second half started at the same rhythm of the first. Kanga Akalé falling foul of Greg Coupet and Hatem Ben Arfa of Steve Mandanda after a sublime one-two with Juninho (47'). Laurent Bonnart commited numerous fouls on Jean-Alain Boumsong, and then Hatem Ben Arfa, fouls which brought him a yellow card (49').
OL hadn't managed to pull back a second goal, and things became much more difficult when Mahamadou Niang decided that he was going to refind his form after 53 minutes and gave his team some more breathing space after a corner from Benoît Cheyrou. His header dropped into Coupet's goal and brought his team closer to Nancy (53'). As for OL, they saw any points pushed away by the hands of Steve Mandanda. From Kim Källström's shot (58') to Sidney Govou's run into the box (88'), with shots from Bodmer and Keita (63') in between : the « red and blues » saw all their efforts stopped by OM's keeper.

Ben Arfa's great running or Juninho's great freekicks could not stop OL's first defeat at the Vélodrôme since 1997.
Bordeaux, who beat Rennes, are now only 6 points behind Lyon. The gap is still large enough and could be added to next week when OL return to Gerland after two consecutive games on the road.