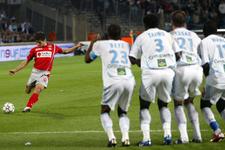 Will Alain Perrin finally win a game during a match between OM and OL? Will OM become the first team this season to beat OL twice in the League?
When manager of OM, Alain Perrin played 3 times against OL. His record? 2 defeats (1 - 0 & 4 - 1) and one draw 1 - 1. With OL, he lost against OM at Gerland 2 - 1. Let's hope he gets a first win against them on Sunday evening…

OM can, if they win, become the first team to take all six points from OL in the league this season. In the remaining six games of the season, Caen will also have the possibilty of achieving this feat. Lille are the last team to have taken maximum points against OL in the league, that was during the 2005-2006 season (a win at Gerland 3 - 1 and in Lille 4 - 0). Inversely, OL has already taken the lot against PSG, Metz, Sochaux, Bordeaux, Monaco & Valenciennes. They can also add Auxerre, Strasbourg & Rennes to the list before the end of the season.

Niang has enjoyed success against OL with OM, even if he hasn't scored against them at the Stade Vélodrome in the league. On the other hand, he has scored 3 goals at Gerland (1 draw & 1 win). In the Coupe de France, he scored the winning goal for OM at the Stade Vélodrome last season and at Gerland during the 2005-2006 season. Over the course of the last 3 games, he has scored 4 goals against OL for 1 draw and 2 victories. He scored 4 of the 5 OM goals!

Juninho has scored 4 goals at the Stade Vélodrome against 3 different keepers (Runje, Gavanon & Carrasso x 2 including a freekick). For info, he scored OL's goal against OM earlier in the season, a headed goal past Mandanda.

[IMG42998#R]In the OL squad today, Govou, Källström, Benzema, Cris, Bodmer, Squillaci x 2 have all scored against OM in Marseille. Taiwo is the only OM player to have scored alongside Niang during a visit from Lyon.

Three 0 - 0 draws ever at the Stade Vélodrome between the two teams : in 1991-92, 1998-99 and 2001-2002.