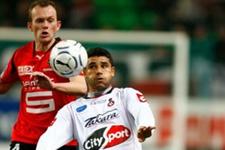 Fabio Santos started playing again with Sao Paulo... Rémy was injured during the final of the Coupe de la Ligue...
After a muscle problem, Fabio Santos got back onto the field with Sao Paulo in Brazil. 2 matches in the starting line-up, 180 minutes; 1 yellow card and 2 wins (Sertaozinho 3 - 1 & Bragantino 2 - 0).

Milan Baros started on the bench for Portsmouth against Wigan, victory 2 - 0 for Portsmouth. The Czech international came on for Nugent in the 67th minute.

Loïc Rémy, was in the starting line-up in thefinal of the Coupe de la Ligue for Lens against PSG, he unfortunately injured his calf after only 10 minutes. He had to come off. Lens lost the game 2 - 1.

Patrick Paillot started the game for GF38 away to Guingamp. The team from Grenoble winning the game 1 - 0 are more than ever in the running for promotion. They are only 5 points behind Troyes, who are in 3rd place, and against whom they will play on Monday.

Nice's Ederson played the full 90 minutes against Sochaux losing 1 - 0.