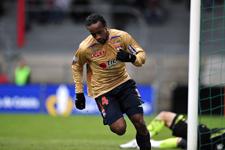 What a symbol : OL have succeeded there where Bordeaux could not, just one week ago. In the space of a week, Antoine Kombouaré's players have tested, with different results, the two pretenders for the title of French champions. Result : a win over Bordeaux (3 – 1) and a defeat at the hands of OL (1 – 2). Thanks to this win, OL have taken all 3 points from their trip up north, exactly where Bordeaux went home with nothing. This doesn't explain the 9 point advantage that separate OL from their rivals Bordeaux, but it does reflect the hierarchy in the First Division : OL have managed well, where Bordeaux have gone under.

Satisfying Alain Perrin, who over the last few weeks has been stating that the title will be won away from home, Juninho et al keep on winning : they have won three games in a row in the league away from Gerland, 3 games at the heart of a series of 6 wins. Obviously at this rate of knots, the gap between them and the chasing pack is growing righth before their eyes. The win in the north did not appear to be the easiest one to achieve. Apart from Valenciennes record at the Stade Nungesser (Marseille & Bordeaux have both been beaten here this season), OL had, for the first time this season in the league, to do without the services of Karim Benzema, out with a knee injury. With him out it was up to Fred to continue his great run of form. Everything started strangely for the Brazilian who saw a headed goal disallowed (5th minute). We didin't have to wait too long though, Kader Keita fired home after a cross from François Clerc (0 – 1, 8th minute). Despite OL opening the score and Antoine Kambouaré being sent off, Valencienne moved their block up the field and Lyon found it very difficult to get the ball out of their half and to respond to the physical battle put up by VA. Cris stopped Savidan heading for goal (20th). As has often been the case they were punished by set pieces. First of all from a corner, Savidan heade just past Coupet's post (23rd). The internaionl keeper then came out well at the feet of Sebo (25th) but could do nothing about Belmadi's corner that Chelle heade home (1 – 1, 27th). Coupet was called into action again after a cross from Roudet (29th).

As worrying as it was, OL's lack of concentration did not last too long. Just 10 minutes, between the 20th and 30th. OL retook control of the game and imposed their rhythm on it. Fred's long range shot did not hit the target (39th). Juninho hit the crossbar from a freekick (58th).And as in the first half, as has often been the case since his return from the ANC, Kader Keita got his team out of trouble. The Ivory Coast player's cross found Sidney Govou all alone in the penalty area (1 – 2, 64th). A long range Kim Källström shot went wide (68th) and Penneteau, with a superb reflex save, deprived Govou of a two goal haul (92nd).
In the dying minutes, Valenciennes tried to equalise but Cris blocked Ouaddou's powerful header (89th).

These two consecutive away games really marks a turning point in the season for OL and in their hunt for a seventh title. The first round in the north flown through with flying colours, all that remains is for OL to confirm things next week at the Vélodrome. Just to chase away the lingering incertainties concerning the outcome of the League.