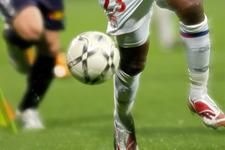 Fly a little closer to their 7th star… that is OL's aim against a Valenciennes side in great form, as their win over Bordeaux confirms…
With their foot down over the last 5 games, OL are heading for a another title, a title which Bordeaux will now have great trouble stopping them taking. Of course, Lyon are not ctrying victory too early. « We'll take care of the games we have to play and not the points difference between us and the chasing teams. Everything can change very quickly … We have two important games away from home, things will be clearer after them … ».

Alain Perrin is being prudent, despite the 9 point advantage and the goal glut of the moment, 14 goals scored in 5 games.For the first time of the season, in a league game,he will have to compose his team without Super Karim, injured against PSG. With the return to form of Fred, Keita, Juninho, Govou…, the growing strength of Coupet, Cris, Bodmer, the dependance on Benzema would appear to be less important.

I f Lyon are missing between 9 and 12 points in order to celebrate, as usual, their end of season, Valenciennes are 5 points better off compared to the same point of the 2006-2007 season. They can enjoy their run in knowing that they are just about sure of staying up. It's at home, where they took 33 of their 41 points, that they have done their best. Bordeaux and Marseille left the Stade Nungesser their tails between their legs, a stadium where "Savigoal" has scored all of his goals this season (10), a stadium where the team has only conceded 8 goals. A stadium where Valenciennes have sparkled, they are the third berst team at home in the League.

With some intelligent additions since their time in the lower divisions , where Savidan, Chelle, Mater, Saez, Traoré,were already part of the squad, Antoine Kombouaré's team is in net progression. A team that always starts with two forwards, who have scored half of their goals following crosses (16) and who are very strong in the air, scoring 10 goals from headers.

Charles Nungesser was an ace during the First World War. The son of Valenciennes disappeared a few years later on board the « Oiseau Blanc » trying to cross the Atlantic. This ardent aviator gave his name to Valenciennes stadium. The team that comes out on top of Sunday's game in a stadium that is at the end of it's life, will have made a great result. A Lyon victory would push them closer to a seventh title.