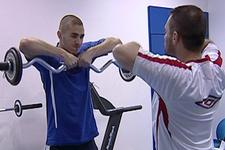 Dr Paquelet (National team doctor) confirmed Dr Amprino's verdict at the start of the week. Verdict? A slight strain of the internal ligament of the knee. Karim Benzema, who came off in the 35th minute of the game between OL & PSG, after a collsion with Zoumana Camara, will be out for 2 to 3 weeks. The international is taking a forced break… Watch out for the return of Benzema.

Karim, how did everything go for you?
Badly. I was trying to make a header and I took a knock to my ankle on landing, at that moment I was in great pain. At the same time my knee turned a litle as well. When I was on the ground I felt the pain in my knee just building up. After a while I tried to keep going but I could not accelerate. Today I still have pain in my knee and my ankle … I'm going to be out for 2, maybe 3 weeks.

What's going to happen now?
It's just a knock on my ankle so that isn't worrying at all. As for my knee, well it's a sprain so that takes longer to heal. I'm walking now and I'm going to have an MRI scan on Monday to evaluate the injury, I hope I'll be able to get back into training with the group as quickly as possible. For the moment I'm putting a lot of ice on both the knee and the ankle. We'll see if I can do a bit of jogging or not on Monday before I start my rehabilitation programme with Robert Duverne

Are you going to have a rest, considering you've already played 48 games this season?
I guess this injury is a bit of a blessing in disguise as I'll definitely be having a rest in order to recuperate.I have played a lot of games since the start of the season. I have to recuperate if I want to be performant for the rest of the season. We still have a lot of important games, in the League and the Coupe de France. I'm not forgetting the Euro 2008 either, even if it's still a way off. I'm going to miss some great games like France-England or the trip to Marseille, but the only thing that counts is the result.
I'm going to be ready for my comeback. A new race is starting … A new Karim is coming.