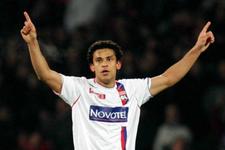 Reactions after the game between OL and PSG.
Fred : It's a great evening for me and the group. We went out looking for a win and got it. It's a win that is very important towards the title. A seventh title is coming closer and closer to us, but there are still some points to win. As long as there are games and points to be won … we have to keep fighting.
My objective ? At the start I said 10 goals… If I score more, all the better. I'm dedicating these 2 goals to Aurélie, it's her birthday.

Fabio Grosso : We still need to win a few games before we can take the title. We won tonight and that's the most important thing. It wasn't easy as Paris gave a lot as they are in the relegation zone. They made it hard for us when they equalised, but we managed to react at the right moment in order to win.

Sonny Anderson : The result speaks for itself. It was difficult after Paris equalised but Lyon managed to make the difference at the end of the game. Fred and Greg were outstanding this evening. The title hasn't been won yet even if OL have made a large step in the right direction.

Cris : It's been a great week for me. Manuela my daughter was born this week, her mother is doing just fine as well.
Against Paris the games are always dificult. We played a great game tonight. They managed to get back into the game but we managed to pull out the win. We were solid, even after they equalised. The atmosphere? People have talked about it a lot, but when you look at it, when everyone is playing together, we manage to win… and the smiles and laughter are there as well.

Juninho : It wasn't easy tonight, even if PSG are in a difficult position. We managed to get two goals quite quickly, the third was a long time coming. At 2 -0 we let them have too much space to play in. Their first goal hurt us,as it was just before half time. We were mentally strong enough to get back into the game. PSG played really well, they could quite easily have scored a third and taken the advantage, but we held on. I'm happy I scored, it's been a while since I put one away. I hope there will be some more before the end of the season.
Fred's positioning really helped us out. He kept the ball well and eased our work load, he allowed us to get up the field and attack …
I'm happy that we won even if nothing is finished yet. We have to go to Valenciennes and Marseille, there is still a lot of work to do. Bordeaux lost to Valenciennes, they played like it was a cup game in order to win and they'll do the same against us.

Christophe Galtier : We're happy for Fred. He played a good game. Mathieu Bodmer was also very good tonight. It's an important win. It was difficult to put the win in place even if we thought we could settle it a lot more quickly. We didn't think that the game against PSG would be easy. The end of the first and start of the second half hurt us a lot. They didn't want to give up. It was more complicated than we expected. Even in the relegation zone Paris are Paris. We couldn't let the joy of the win against Bordeaux get to us last night and take a step to our seventh title.

Jean-Michel Aulas : You might find it surprising but I am fully behind Paris, they are a club we need in the French top flight. They are the club of our capital, and you have to admit it, tonights game was of the highest quality. Paris showed their qualities, speed, enthousiasm and organisation. Qualities which should save the club from relegation. They deserve to win the Coupe de la Ligue as well to help build up their morale.
The win? It's a big step towards a seventh title. This is really the priority for the club now. It's more and more difficult to stay at the top. If we manage to win it will be exceptional, but the following seasons will be even more difficult.
Karim Benzema's injury? I'd like to thank Raymond Domenech for letting Karim make the trip there and back on the train rather than the plane, as his knee could get worse in a plane. Ten of our players will be on a plane tonight, direction the French sqaud. The good news is that Anthony Réveillère is in the group and constitutes the tenth OL player to be part of the National team.