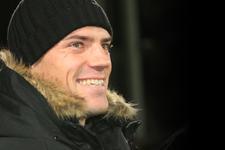 Reactions after the game between OL and Sochaux.
Christophe Galtier : This match was very similar to the one we played against them a few weeks back. Sochaux caused us a lot of problems thanks to their organisation, they aren't the third best team away from home this season for nothing. We had trouble finding space and putting in deep passes tonight. Things were a bit better in the second half. Once we opened the scoring the game opened up but we didn't manage to capitalise on it. It was a typical Cup game with an equaliser in the 90th minute. At that point we were thinking like them that we were headed for extra time but luckily enough for us we managed another goal. We saw just how determined the group is and also the realism from Karim (Benzema). It's all good, the main thing ion the cup is to be part of the draw for the next round and we are. Wins bring on wins. Our victories against Lille, Bordeaux & Monaco helped us win tonight.

Fabio Grosso : It was a difficult game tonight. We knew we were playing against an in form team and Sochaux have some great players. Their poor position in the league table doesn't make sense. The end of the game was very hard. We didn't play very well but hte most important thing is that we won. We really want to win the League and the Cup.

Jean-Claude Plessis (FC Sochaux President) : It's reassuring that we managed to make things so difficult for Lyon, we proved that we aren't « donkey's ». We showed everyone that we can play good football. Now we have to save our skins in the league, as we really aren't at our place at the bottom.
We knew exactly what we were up against. In the 90th minute we were hoping then we made that little error...

François Clerc : It's always the same after someone equalises, it takes a few minutes for both teams to get back in the game. After Traoré scored, it was important to get the ball forward. We had a bit of luck as we were able to score straight away. We're happy as it's a good win. We're relieved as well, the cup is still a major priority for the club. We're in the quarter final, it 's getting exciting now. It's up to us to go as far as we can, we have a capable squad. We must avoid a scenario like that of the Coupe de la Ligue. To do the double would be great for the team and the town.
Tonigt we didn't give up, we refinding the mental strength of past seasons and we have to keep that going. It all bodes well for the future.

Mathieu Bodmer : In the cup the only thing that counts is qualification. We proved that we are mentally strong. It was good to avoid extra time as that would have been really tiring. Like every game we play against Sochaux, it was not an easy match. Thye play good football, are full of running and close down all over the pitch. I can't see why they are in the relegation zone. They are playing well at the moment , which can only be good for them.

Grégory Coupet : We're making our own luck and have the team capable of going on to win the cup. I hope so anyway. It's one of our dreams. I was talking about it with Bernard (Lacombe) not long ago. If we could get another home draw in front of a sell-out crowd it would be great. We have to give everything we have now.
Sochaux were well positioned and were putting everything into counter attacks. They were more than capable of putting us in difficulty and they did just that.