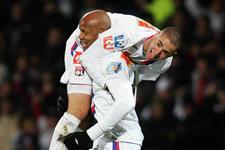 OL have gone one better than they did last season by qualifying for the quarter final of the Coupe de France *. For the fourth time in 10 years they have reached a stage of the competition that they don't get to as often as their domination of the league would let us imagine. The next round will be very important : they haven't reached the last four since 1998 ! 3 times in the last 4 seasons they haven't even managed to get past the last 16. This qualification is a rarity in their recent cup history, which has often been cut off too soon. Regular, is also an adjective that well describes Karim Benzema. In his excellence, we could add. Once again the OL forward, top scorer in the League, is the hero of the day. Fingered, unusually, against Monaco for missing an absolute « sitter », the French international, who scored 2 goals this evening, offered the qualification to his teammates in stoppage time sliding the ball into the goal (91st). As when it's not Benzema going towards the ball, as for the first goal that he scored after a superb control with the outside of his foot, a perfect run and a solid shot with his left (55th), it's the ball that comes towards him, as for the second goal.

Sochaux had believed for a while they were going to change things round . In their last two visits to Gerland they have conceded goals in stoppage time, this time they nearly forced extra time after Traoré equalised in the 89th minute.

They didn't manage it, but it's not sure that Francis Gillot's men will regret Benzema's winning goal, his 27th of the season with OL too long. This defeat doesn't change much for Sochaux as they have other things on their minds more important than retaining the trophy they won last season with Alain Perrin at the helm. Their top scorer Erding, only came on with 15 minutes to go, proved that their ambitions lie elsewhere. Losing Bréchet after only 3 minutes, they never really looked like they could beat OL. Before Benzema opened the scoring, N'Daw (8th) , Mathis (12th & 42nd) missed the target, & Sène fired straight at Coupet (17th) were the only timid efforts that Sochaux made. Only once, before Traoré's equaliser, was Grégory Coupet really put under pressure magnificently saving a curling shot from Pancrate (73rd).

So OL weren't far from having to play out extra time which they would not have wanted just four days before the vist PSG in the league. If they had put away the chances they had over the course of the game they wouldn't have had as many scares . Without dominating completely, they had enough oportunities to not have to put their hope in a final attacking rush.

They were not really dangerous in the first half, up against a Sochaux side well in place with their 4 – 5 – 1 formation. Mathieu Bodmer put in efforts between the lines, Grosso & Clerc made runs behind Birsa & Pancrate, Alain Perrin's men used long balls too often and ony rarely worried Teddy Richert. Richert who cuaght a Benzema cross which came off Pancrate (7th), watched Govou head wide (11th), and Karim Benzema fire into the ground (14th), Källström saw his effort caught by Richert (30th),and finally after a pass from Mathieu Bodmer, Karim Benzema fired wide (38th).

Even after they opened the scoring, they were unable to profit from the spaces left them by Sochaux and were often lacking in realism with their finishing, which should have saved us from end of the game full of suspense. On three occasions, Källström should have finished (65th, 70th & 75th). Richert came out on top after his one on one against Benzema (73rd) and stopped a low Bodmer shot (87th).

The end of the game was unbelievable and really proved that games between OL and Sochaux are « crazy ». But no matter what happened, OL are in the quarter-finals. After three wins against Créteil, Croix de Savoie & Sochaux,they are half way towards winning a trophy that has eluded them for 35 years.

* Last season, OL were eliminated from the last 16 at the Stade Vélodrome by OM (1 – 2).