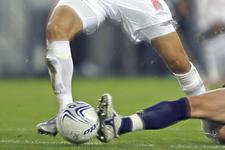 Sochaux, again! For the fourth time this season, OL will face Sochaux. This time round it's the Coupe de France and the possibilty of a place in the quarter-finals…
Their win against Monaco barely digested, OL have to get straight back to work. Lyon will be back at Gerland for a Coupe de France game. This competition is one of the season's objectives for the 6 times French champions, especially as it's they only cup competition they have not been knocked out of after the Coupe de la Ligue & the Champions League. A double, if they manage to take a 7th title, would be a fantastic achievement for the club.

To win a Cup, is a wish more often than not impssible to do. It's not everything to want it. But after Créteil, Croix de Savoie, the fact that this game is at home is an undeniable advantage. To be playing against the Cup holders who are badly placed in the League on the other hand does not make things too easy. Sochaux are in good form. They have won 16 points since the start of the return games, as many as they had taken in the entire first half of the season. They are more than comfortable on their travelsfrom which they have taken 20 of their 32 points. They have discovered Erding, a prolific goalscorer, 6 goals in the last 10 league games. Even though they are in the relegation zone, Sochaux are on the up. They are level with PSG (17th) and are close behind Lens, Strasbourg & Caen. Incidently, their last defeat was on their visit to Lyon in the League.

OL have once again become the big team in France . They are on a run of 4 wins and have Bodmer, Keita, Fred at the top of their form. Without forgetting Cris's impact. The Brazilian didn't take long to take back his status of Big Boss of the defence, maybe even the squad. OL have been moving forward as a group. Fred & Keita have brought their efficacity to add to that of Karim Benzema. Thanks to all that the absences of certain important players like Govou & Juninho is not as handicapping as it could be.

Now all they have to do is make sure they do not suffer an upset in the Cup game. Cup games rarely follow the form guide and are not bothered about status. Lyon have won all 3 of their games against Sochaux this season. In fact the last time Sochaux beat OL was on the 18th of January 2003 in the last 16 of the Coupe de la Ligue, a penalty shoot out success. Since then 12 games have been played, Lyon winning 9 times with 3 draws, all 3 at Gerland ; 3 draws in the last 6 visits.

Alain Perrin and Christophe Galtier won the Cup last season with Sochaux. To still be on course for a possible double after the game would be great for them. Let's hope they can pass on the message to the players so that they can join Pouliquen next May, he was the last coach to win this Trophy 2 years in a row with 2 different clubs (Strasbourg and Lorient).