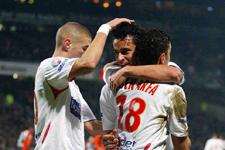 Reactions after the game between Monaco and OL.
Cris : In the first half we played well. We kept them on the back foot closing them down high up the field. The second half was more difficult but we managed to deal with it. We aren't unbeatable. We have to keep playing well, stay concentrated. When we manage to play together we make the difference. We haven't won the title yet and still have some important games coming up.

Jean-Luc Ettori ( director of football AS Monaco) : We just weren't good enough tonight. The guys played with what was available to them. We are definitely at our place. We have to stay lucid : we don't have the quality to hope for anything else. Physically we're not great : we lack pace and power. When you play against a team like OL, who will use your weaknesses, there's no chance.

Kader Keita : I think I played well this evening. I put in some good runs, the guys played in some good long balls for me and I managed to profit from them. The team gave me the possibility to show what I can do. I just want to get my confidence back, the goals will then come.

Jean-Alain Boumsong : Overall it was pretty good but Monaco managed two or three chnaces at the end of the first half. If they had managed to score it could have been a different story. It's always a good thing to finish off chances but we have to be a bit more attentive when we are in the lead

Fred : My goal and Kader Keita's goal show how strong the group is. Kader and I haven't played much since the start of the season. When we come on we give evrything we have. I'm going to give everything in order to score more goals.